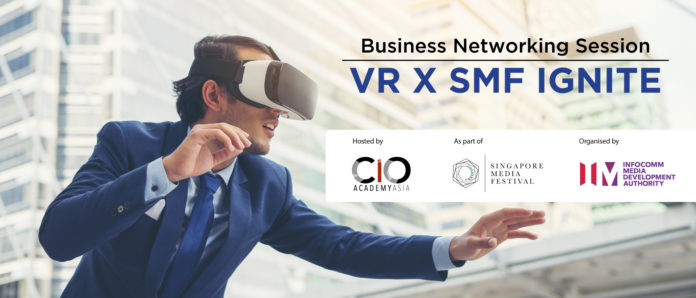 29 November 2017
Marina Bay Sands
A keystone digital event of the Singapore Media Festival organised by the Info-communications Media Development Authority (IMDA), SMF Ignite gathers emerging media content creators in Singapore and around the region to learn, network, create and collaborate.
This year, SMF Ignite shines the spotlight on Virtual Reality and digital content creation. A one day conference and exhibition, VR X SMF Ignite, will be held to bring together technologists, creators, developers and users to exchange insights on the VR ecosystem and discuss how virtual reality can be harnessed for use beyond entertainment and create opportunities for businesses.
For more information and to register for the conference, visit VR X SMF Ignite website here
Exclusive Business Networking Session (By Invite Only)
At VR X SMF Ignite, CIO Academy Asia will be hosting an exclusive 2-hour business networking session for select group of CIOs, Head of IT and senior IT executives, to provide opportunities for VR companies to meet enterprises and brands to explore how innovative media platforms such as VR can be used in the enterprise for training, productivity gains and brand awareness.
Contact Tissie Adhistia at tissie@13.229.206.30 to find out more on how you can take part in this exclusive session.