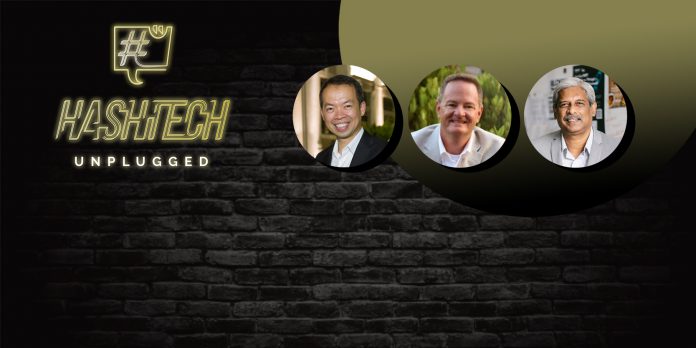 #HASHTECH Unplugged!
Remodelling the Digital Game Plan – Optimising Your IT Financial Management Strategy

Special Interview with:
Glen Francis, Chief Technology Officer, Singapore Press Holdings (SPH)
Christopher Lindner, Chief Information Officer, Apptio
"When the going gets tough, the tough get going" is a phrase that is attributed to Joseph P. Kennedy, the father of US President John F. Kennedy. In the current tough environment, companies that make the tough decisions to realign and re-plan their strategies will resurface to fight another day.
Being "tough" or "fit" in the corporate sense means having characteristics to deal with agility, adaptability, resilience and realignment. Research house Gartner says only about a quarter of all organisations can be considered to be really "fit" – which means going through the downturn and coming out without sacrificing revenue growth or profitability.
"Fit organisations should plan to re-plan," says Christopher Lindner, CIO of software firm Apptio. "They should plan to be able to react and be agile enough so that when something changes around them, they can rebalance their portfolios, realign their spending, and move forward."
Apptio was founded in 2007 and is headquartered in Bellevue, Washington in the US. The company develops enterprise software designed to assess the cost of IT services for planning, budgeting and forecasting. In November 2018, Apptio was acquired by the private equity firm Vista Equity Partners for US$1.9 billion.
"The vast majority of IT departments have been asked to re-plan their strategies, and 10-30 per cent of their budgets are being asked to be given back to ensure the viability of their organisations through the downturn," Mr Lindner noted at a thought leadership interview series – called Hashtech Unplugged – organised by CIO Academy Asia (CIOAA). The topic was "Remodeling the Digital Gameplan: Optimising your IT Financial Management Strategy". The interview was conducted by CIOAA CEO Mr. P. Ramakrishna.
"COVID-19 has disrupted the disrupters," remarked Glen Francis, CTO (Chief Technology Officer) at SPH (Singapore Press Holdings) Ltd. "Before COVID-19, companies would be looking at innovation, transformation, change management, etc. COVID-19 has forced all of us to become more operations-focused. We have to ensure that technology doesn't fail and VPNs (virtual private networks) can bear spikes in bandwidth, especially with 80-100 per cent of staff being forced to work from home."
Mr. Francis said SPH had a big focus around data and technical debt. "We hold a lot of data, we collect data on audience preferences in terms of reading habits and so on. We want to use the data to understand how we can serve our readers better," he said. "As for technical debt, it's actually heavy lifting, especially if you don't have the tools in place or you use simple sheets to manage complex technology issues."
Technical debt is a programming concept that involves making "quick and dirty" development decisions. Simply put, technical debt comes from dashing out code that's fine for the short term, but can't scale in long run. The implied cost of rushing out "quick and dirty" code includes the time, money and other resources that will be needed down the line to fix badly written or patched code.
"You need to have transparent, data-centric conversations with the business to say business outcomes will be attainable as long as you don't carry the burden of technical debt," Mr. Lindner said. "The key is to use TBM (Technology Business Management) to connect the dots between business outcomes and technology solutions. CIOs need to show business stakeholders where they are spending money and how that money aligns to the profits or the value of the business."
TBM provides CIOs with standards and best practices to communicate the cost, quality and value of IT investments to their business counterparts. In turn, IT can drive innovation for the organisation. Those who adopt TBM begin with a strong financial foundation and then work their way up the framework to ensure complete business alignment for all technology investments. The Apptio TBM Unified Model standardises the financial information necessary for IT leaders to manage their technology business.
Mr. Francis said tools like TBM serve to communicate more effectively with stakeholders in terms of whether to spend or not, and provides insights into what you are spending on. "That transparency builds trust with our business users and stakeholders," he said. "This is important because we have to demystify the tech 'black box'. If we remain as a black box, we will be treated as a black box."
Mr. Lindner cited the example of Southwest Airlines, which was planning to relocate its data centre. The CIO took advantage of the COVID-19 slowdown to accelerate the project. "Play offense, not defense," Mr. Lindner advised. "Double down on tech investments and create competitive advantage. Now is the right time to do this."
Watch the full interview for more insightful commentaries.
---
The Southeast Asia Technology Trends & Priorities for 2020 Report, published by CIO Academy Asia in collaboration with the Lee Kuan Yew Centre for Innovative Cities at SUTD, is now available for download.
Visit here to get your copy