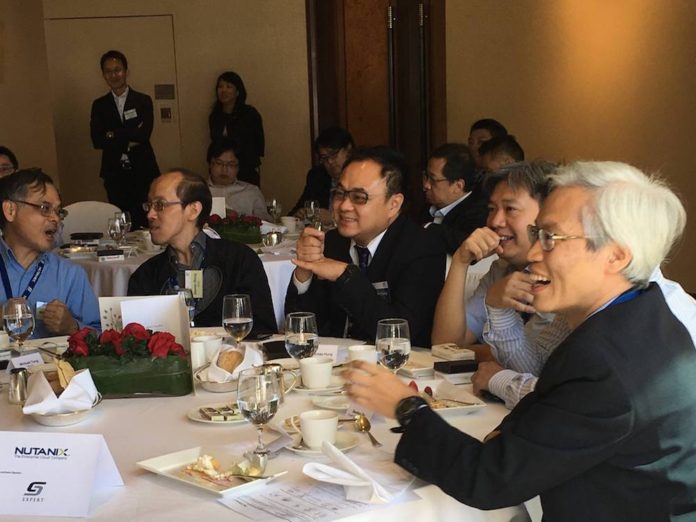 14 October 2016
A great session on "Datacenters of the future" was successfully conducted at the Conrad hotel in Hong Kong where top C-level thought leaders from different industries shared their insights about  the next generation datacenters.
Moderating the discussions was Rama and the first speaker was Patrick Ng from HKU Space who shared his ' headache' in having to manage a diverse set of hardware, protocols  and systems under a single platform.
Next up was Kai from TAL Apparel who wanted scalable and a more manageable architecture and didn't want the hassle of maintaining their own datacenter but focus on the business needs.
Robyn Randall  from Burberry was one of the pioneers on cloud since 2008 and all of their hardware is run on cloud solutions.
Lovely lunch and an enjoyable session, thanks to Nutanix for their support.

Fletcher Ng is a Senior IT Executive with over 20 years' of International IT management experience across 4 continents as GCIO and CIO for listed multinationals and local Conglomerates in HK and China including Midland Realty, Maclaren, L'Occitane and Remy Cointreau. Specializing in IT strategic planning, business transformation through blending business, technology, creativity and innovation into a potent mix, Fletcher has designed IT blueprints and managed major global projects including infrastructures, Applications and digital transformations Currently sitting as the Head of IT committee for Invotech and as Senior Advisor to the CIO Academy Asia. A strong advocate in nurturing youth talent, Fletcher is using his vast knowledge and experience to impart, coach and mentor young people to have passion and take up a career in the IT industry. He coaches start ups and University students to unlock their inner talents. Fletcher graduated from Coventry University in the UK with an Honours degree in Electronics and Electrical engineering.
PARTNERS