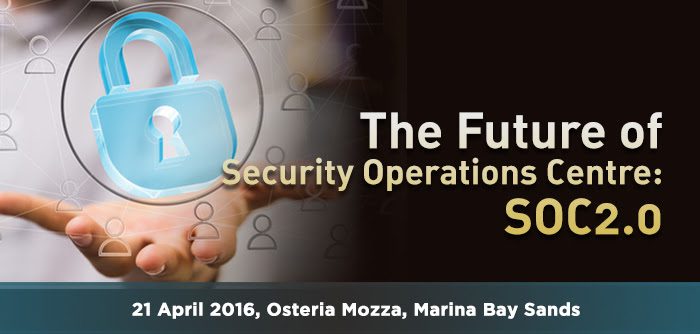 Cyber security is a key pillar for the IT executives of any organisation. Cyber crime today is an estimated multi-billion dollar industry which is constantly increasing in sophistication and persistence. Protecting your organisation has never been more imperative; integrated threat detection and monitoring tools, security operation centres, forensic analysis systems need to be updated to match today's cyber threats.
Cyber security may not be a top priority with business decision makers until there is an actual attack, but the threat is real. It is high time that key IT and security decision makers challenge the status quo on security as the organisation advances to achieve a vast array of quarterly targets.
This CISO forum gathers thought leaders to exchange views on the future of SOCs, with a specific focus on improvements to make it operationally more effective.
Topics of Discussion for the Security Operations Centre:

PEOPLE – Manpower resourcing, to find out if manpower resourcing and recruitment of cyber security analysts is a challenge for enterprises and agencies today and how can we better manage for tomorrow.
APPROACH – Should enterprises and agencies adopt the insourcing or outsourcing model when building up the SOC? Is there a difference as we move forward?
CAPABILITIES – Is today's technology sufficient for enterprises and agencies? Is the building correlation rules based on logs and events from multiple systems (Anti-Virus, Firewalls etc) a challenge and are users facing large number of alerts, leading to false positives, which will affect the efficiency of their investigation and resolution of cyber threats. What can be put in place for SOC 2.0?
We probe the cracks of enterprise security, gain perspectives from fellow CIO's on different organisational practices and discover new solutions to tackle the ever increasing threat of cyber crime.

Chai Chin Loon
Director
(Government Cybersecurity Group)

Murari Kalyanaramani
Head of Information Security at a large financial organisation
Event Details
Venue: Osteria Mozza by Mario Batali
Address: B1-42-46, Galleria Level, The Shoppes at Marina Bay Sands
Date: 21 April 2016, Thursday
Time: 12:00pm – 2:00pm