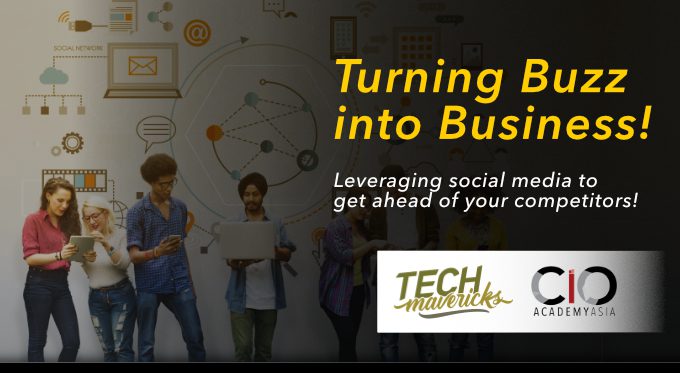 Leveraging social media to get ahead of your competitors!
Adding "Like", "Comment" and "Share" functions to digital touchpoints have become bread and butter for business executives, but few have yet to harness the power of social media. Find out from the experts on how you can turn your ideas into viral posts on social media!
Consumers today receive promotional content, seek recommendations on products and services, and share feedback about their experiences on a variety of social media platforms. Commercial customers are also taking their business conversations online, radically transforming the landscape for B2B marketing as well.
Social media has offered itself as a double edged sword to business leaders today. On one hand, it breaks down geographical barriers and acts as a force multiplier to word-of-mouth awareness building and promotional marketing. On the other hand, it also allows for complaints and negative publicity to spread like wildfire.
Today, sales and marketing executives are cognizant about the role of social media in their businesses. However, most practitioners still struggle to maximise business value out of their investments in social media.
Join us, as we gather the experts in social media to shed light on this emerging hot topic amongst businesses today.
Date :  12 May 2017 (Friday)
Venue: NTUC Centre, 1 Marina Boulevard – Rm 903
One Marina Boulevard, Singapore 018989
Time: 6.30pm – 8.30pm
*Admission is free and light refreshments will be served!
REGISTER HERE
FEATURED SPEAKERS
Melissa Murray Bailey leads LinkedIn Sales Solutions in Asia Pacific. Her team spans the region and advocates social selling amongst sales and marketing leaders.
As a senior business leader, Melissa brings with her a terrific 15-year track record of success across APAC and the Americas. She joins LinkedIn from Universum, where she was most recently President for Americas.
Prior to this, Melissa led CEB's entry into APAC in 2007 and was promoted to Managing Director for Asia in 2010. In this role, Melissa steered the growth and development of CEB's Asia Leadership Councils, the leading member based advisory programs for employer branding, engagement and leadership development data and best practice research in Southeast Asia, China and India.
Melissa is a passionate team leader and trusted advisor to CXOs of many Fortune 500 companies.
Ian Ho is Shopee's Regional Managing Director and in-charge of Malaysia and Singapore. Ian has a strong background in TMT, having taken on positions in both investment and operational capacities.
Prior to Shopee, Ian spent more than 5 years with Vickers Venture Partners, a top quartile Venture Capital Fund and its portfolio companies. During the stint, Ian was leading TMT investments primarily in China and South East Asia. He also took on the role of Director of Corporate Finance in several portfolio companies.
David represents CIO Academy Asia as the Head of Relations. Starting his first e-commerce design platform at the age of 19, David is no stranger to the tech start-up and innovation scene in Singapore and around South East Asia. David focuses on developing thought leadership in technology among students and millennials.