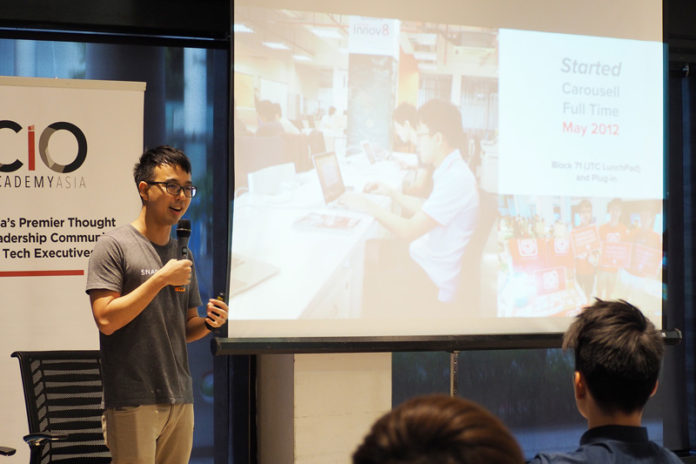 8 December 2016
Technology has profoundly influenced the way businesses function and, radically transformed how we interact with them as consumers. As millennials, how do we prepare ourselves to lead in the new digital economy today and in the years to come? How are the leaders of today paving the way in enabling technology across different sectors?
This exclusive talkshow shines the spotlight on noteworthy tech disruptors in South-east Asia across a wide array of industries. Students, professionals, tech practitioners and entrepreneurs are invited to learn more about technology disruption, the opportunities ahead and solutions to tackle common challenges as we embrace the new-world-order in our digital economy.
Launching in Singapore, we are excited to bring to you the first episode, featuring President and Co-founder of Carousell, Marcus Tan.
Topic: "Is Mobile E-commerce the New Gold Rush?"
As consumers, we want everything to be available through our mobile phone now. From socks and suits to gadgets and gizmos, we now feel that it is odd that we cannot access something through an app.
Tech Maverick: Marcus Tan (President & Co-Founder, Carousell)
Learn from the co-founder of Singapore's first and most success C2C mobile e-commerce platform, Marcus Tan, on how the mobile commerce industry is evolving, what key growth areas Carousell is taking advantage of at present and if mobile e-commerce is indeed the gold rush of today.
The TechMavericks Panel 
Contributing multiple perspectives to this topic are veteran panel speakers from world leading tech companies from various technology domains. Keen to find out more about some top-of-mind priorities of tech leaders today? Find out more about our panel speakers below!
As mobile commerce in Asia grows exponentially, what opportunities does it present for the 3PL industry, how is FastFast as a start-up a disruption to this age-old industry?
What are key technologies that businesses can take advantage of today?
What are tech companies looking out for in prospective employees? Is it true that only geeks and techies can work for tech enterprises?
How can technology enable a more immersive experience for the consumer?
How can business get creative in gaining brand equity in an increasingly brand agnostic consumer world?
Join us at this highly anticipated talkshow, network with those from the industry and get to meet with tech leaders face to face! What's more, admission is free and light snacks will be provided! If you are interested, REGISTER HERE.
Organised by CIO Academy ASIA and CIO Care.
Supported by NetApp and Amazon Web Services

Marcus Tan, 32, leads Design & Community at Carousell. Prior to co-founding Carousell, he read Business Administration and Entrepreneurship at National University of Singapore and Stanford University (under the NUS Overseas College Program in Silicon Valley) and worked in Business Development at Oracle for one year. Marcus was also formerly a product manager at Wikinvest and held various marketing roles at DDB, Yahoo, and Coca-Cola.

Ash is the general manager of FastFast Delivery, an on-demand 90-min delivery service platform that connects riders and drivers with business customers. As an education founder in Thailand previously, he believes that passion and speedy execution are critical to gain a competitive edge for a technology startup to succeed amongst all the traditional incumbents, especially in the tight space of courier and logistics industry. FastFast was founded as a social enterprise a year ago to equip adults transitioning into another stage of their lives or even school goers to empower themselves to make extra income, simply by providing delivery services.

Joubert Uriarte is NetApp's Regional Principal Architect for clustered Data ONTAP covering Asia Pacific. Being in the IT industry for nearly 20 years, Joubert brings about extensive experience in providing solutions, architectural advice, risk assessment, and implementation best practices to customers across all industries.

Markku is the APAC Technology Evangelist at Amazon Web Services. He has been in the IT industry for 14 years, and has held various technical and management positions, covering R&D, technical support and architecture. For the past couple of years, Markku was responsible for the cloud computing architecture and technology transformation of Nokia Siemens Networks' global business units. Markku has worked out of Finland, China and Singapore.