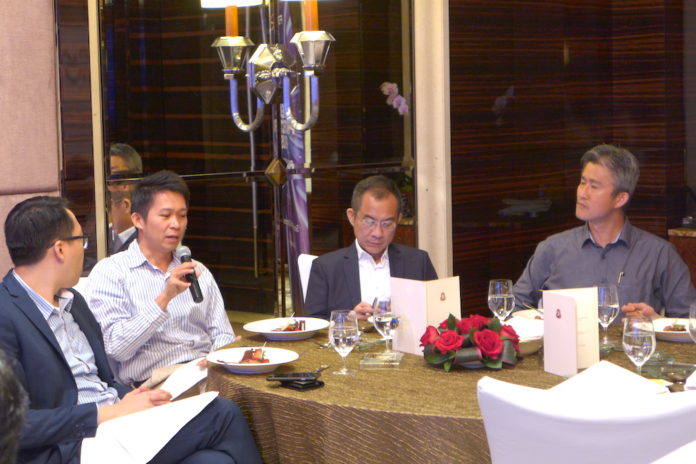 27 October 2016
–
CIO Academy Asia hosted a luncheon event on 27 October at the St Regis Hotel about Cyber-resilience with #Fortinet. Passionate views were exchanged about the recent DDOS attack and the lessons we can learn from this saga. Big takeaways on convincing the C-level executives about investing in cybersecurity solutions based on business portfolio risks and the importance of having an info security education framework not only organisation-wide but also on a national level.
The session is a part of a multi-city Cyber-resilience roundtable series. To view the summary and key takeaways from these engagements, please visit here.

P. Ramakrishna has been involved with the ICT domain for the public sector for more than 30 years from 1983-2014. He joined Infocomm Development Authority (IDA) in 1999, his last held position was Director of IDA's Industry Development Division. Prior to IDA, Rama worked in the Ministry of Defence for 16 years.
Paul is the Head of IT, Information Security, and Business Process Automation at Grab one of Asia's largest startups. He has spent the last six months helping Grab scale its IT and Cyber Security processes to support its explosive growth in business and size. Prior to Grab Paul was a technology visionary working across the US, Middle East, Singapore, Korea and New Zealand to build Palantir's business in both the private and public sectors. He helped Palantir advance into new business lines including Anti-Money Laundering, Insider Threat, Cyber, and Government applications. Focusing on using his experience with Palantir to help the company advance into new business lines managing products including Anti-Money Laundering, Insider Threat, Cyber, and government applications. With a recent focus in commercial banking he has helped grow and integrate Palantir in multiple large organisations.

Alvin Rodrigues has over 20 years of experience in the IT industry. At Fortinet, he is responsible for sales and marketing strategy, program development, business messaging, and the deployment of the strategies through the different routes to market across South-East Asia and Hong Kong. He speaks at public forums and events on security, and engages with executives one-to-one or over roundtable discussions to understand their security challenges and propose solutions optimised to their business needs.
PARTNERS