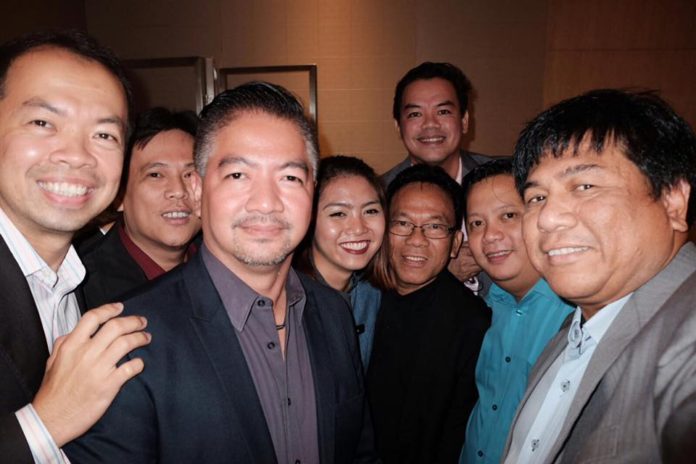 31 August 2016
–
A select group of CIOs and CISOs gathered in Manila on 31 August 2016 for the first leg of the Cyber-resilience roundtable series hosted by CIO Academy Asia and partnered with Fortinet. Major Allan Cabanlong, Chief, Regional Information Technology Management Office 1 of PNP, kicked start the session by sharing interesting perspectives on his proposal on Cyber Security for the Philippines Government.
The security threat landscape is constantly changing; attacks are becoming more frequent and increasing in severity, its no longer a question of 'if' but rather 'when' will it happen!
Technologies such as cloud computing, social networks and powerful mobile devices are making networks more porous, creating more opportunities for attackers to infiltrate organisations. As many breaches go for months before they are detected, organisations are starting to take a more proactive approach to cyber-security, the key is to make sure that we are Cyber-Resilient!
According to the Scottish government, Cyber resilience is being able to prepare for, withstand, rapidly recover and learn from deliberate attacks or accidental events in the online world.
As we all strive for business preparedness, business continuity, and business improvements, delegates had insightful discussion on what it takes to embrace Cyber-resilience in this inter-connected digital world.
The session is a part of a multi-city Cyber-resilience roundtable series. To view the summary and key takeaways from these engagements, please visit here.

Glen Francis is the President of CIO Academy Asia and IDeationEdge Asia. He was the Vice President of ITMA (IT Management Association). He also is Board member for the technology faculty for SIM and Temasek Polytechnic. Glen has the experience being a group CIO for Global Logistics Properties, responsible for Technology across the group's operations over 100 cities. As Regional Head of IS, Asia Pacific for RS Components where he helped transform RS into an e-commerce business and as Regional Director (Asia-Pacific) of Aon, leading the development of a newly formed corporate initiative called the Revenue Engine

In his role, Major Allan S. Cabanlong manages the ICT Strategy and CyberSecurity Projects of the Police Regional Office 1. He is also one of the four core groups for the drafting of the proposed Use of Internet for Terrorist Purposes Bill of the Republic of the Philippines with the Office of the President (Anti-Terrorism Council) and United Nations Office on Drugs and Crime (UNODC). He is the Chief Adviser for cyber security matters of the Office of the Executive Director of the Department of Science and Technology, Information and Communications Technology Office (ICTO).

In his role, Nilo leads the IT Department and also covers a wide range of roles such as Business Development and Sales, Marketing, Project Management, Customer Service, Operations, and Management. Exposed to various industries, Nilo was able to implement in these sectors, ICT solutions necessary to achieve their desired level of cost operational efficiencies. He brings with him more than 38 years of experience with large organisations, holding management positions in several of them and is also currently serving as Board Member to several corporations and associations.

In his role, Reggie Tamayo is in charge of managing the Bureau's computer network and operations. He is also responsible for preparing the ICT Strategic Plan and annual ICT Budget. Reggie is a member of the Government Integrated Financial Management Information System (GIFMIS) Project Implementation Team. A Registered Mechanical Engineer and IT practitioner for over 25 years, he brings with him solid experience in IT Management, Systems/Network Administration, Systems Analysis, Systems Development, and Project Management.

Alvin Rodrigues has over 20 years of experience in the IT industry. At Fortinet, he is responsible for sales and marketing strategy, program development, business messaging, and the deployment of the strategies through the different routes to market across South-East Asia and Hong Kong. He speaks at public forums and events on security, and engages with executives one-to-one or over roundtable discussions to understand their security challenges and propose solutions optimised to their business needs.