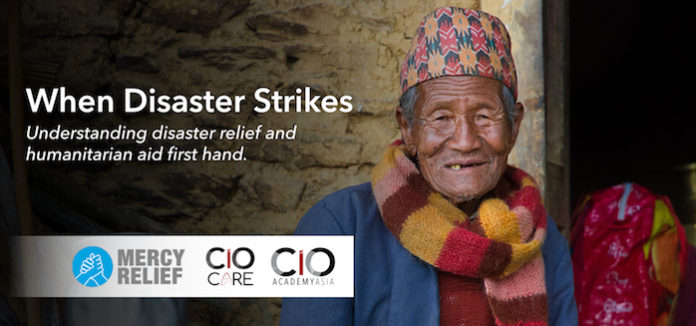 A typhoon. An earthquake. A volcano eruption. In the aftermath of a disasters, aid workers often bear the responsibility of saving lives and alleviating the suffering of survivors. But what really, goes on behind-the-scenes? How do relief agencies mobilize their resources in this race against time to deliver life-saving aid to ground zero and how do we, in each of our own capacities, work together when disasters strike.
CIO Care's pilot partner, Mercy Relief, has organised a special workshop for the board of advisors to develop a deeper understanding in disaster relief through an immersive table top experience.
This workshop centers around a table-top exercise that provides an opportunity for participants to experience first hand planning for disaster response in the capacity of an aid worker. Based on a high-impact large scale disaster scenario, participants will experience free play and be engaged in decision-making, coordination and communications in the context of a disaster. This process not only allows participants to gain a more in-depth understanding of humanitarian aid and relief but also allows participants to exercise their mental gymnastics on group problem-solving in a highly stressed environment.
Join us for this meaningful experience with Mercy Relief.
Date: 9 May 2017 (Friday)
Venue: 160 Lorong 1 Toa Payoh, #01-1568, Singapore 310160
Time: 7.00pm – 9.00pm
RSVP Here