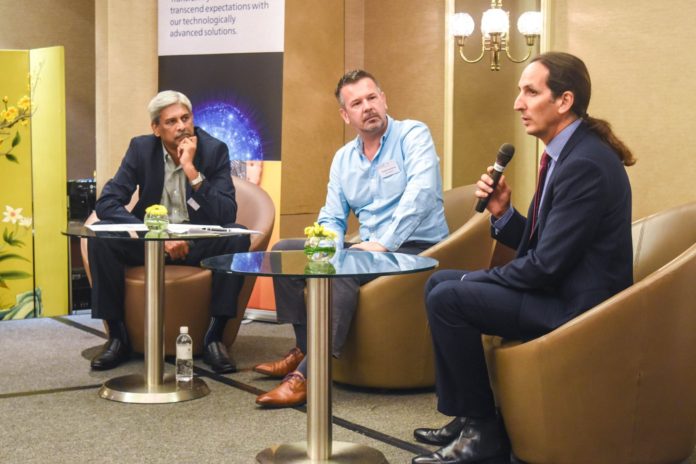 9 September 2016
A perceptive dialogue and a sumptuous meal brought the week to an end last Friday, 9th of September 2016. CIO Academy Asia and NTT Singapore gathered some 30 CIOs and CTOs to discuss challenges and opportunities in aligning business value with IT when it comes to managing Digital Transformation.
After a warm welcome from Mr. Tetsuya Shoji, President and CEO of NTT Communications Corporation and Moderator
– Mr. P. Ramakrishna, Dy CEO of CIO Academy Asia, the programme started off with an insightful dialogue with Mr. Sreeram Iyer, Chief Operating Officer of Institutional Banking and Asia Retail of ANZ Bank.
A few salient points from him stood out during the dialogue :
The Board must invest by educating the directors and leaders of the company to be more digitally savvy
CIOs have to work closely with their CEOs to drive the business agenda and strategy of the company and spend more time with the customers
Technology replaces certain process-related jobs but helps to free up resources and creates opportunities for people to focus their efforts on high value work
CIOs should be bold enough to terminate IT investments which no longer have any business value to the organisation
A panel discussion soon followed, with Mr. Damian Fazackerley (CIO of Havi Logistics) and Mr. Len Padilla (Vice President Product Strategy of NTT Europe) sharing their perspectives on managing transformation.
To set context for the discussion, a survey was quoted highlighting 3 main organisational barriers to digital transformation;
No 'burning platform'/no sense of urgency
Not enough funding
Limitations of IT systems
The panel did not totally agree with all 3 reasons, they felt that with proper corporate sponsors and the current wealth of digital disruptive technologies available, there were no real reasons and excuses for not overcoming the barriers to embark on the Digital Transformation journey.
The panel also shared their views on the following points;
CIOs should be the change agent and drive transformation by hiring the right talent
Innovation is no longer an option, it must be done by all organisations, it's the only way to stay competitive
Millennials are digital natives, they are more comfortable with the use of digital technologies, they will be your future tech talent and customers
Write your own 'in-flight magazine', don't let your CEO read them on board the plane and dictate what the tech team should be doing for your organisation.
---
To find the PDF version of this discussion, please head over here
MODERATOR

P. Ramakrishna has been involved with the ICT domain for the public sector for more than 30 years. He was formerly with Singapore's Infocomm Development Authority (IDA), his last held position was Director of IDA's Industry Development, responsible for national level initiatives to develop the ICT industry ecosystem.
SPEAKERS

Damian is an extensively experienced CIO with 30 years Supply Chain, Supply Chain Services, Manufacturing and Travel Services experience in global organisations. Damian is an expert practitioner in building and delivering globalized IT solutions and services, as well as managing c-level stakeholders and drive major programmes with real commercial acumen.

Mr. Iyer is responsible for supporting ANZ's business strategies across several countries; generating value for customers through Technology and by driving Operations in all the regions of its business. His focus is in Institutional Banking regionally and in the Asian Retail Banking businesses. He has more than 25 years of experience, including 18 years, in diverse functions across different disciplines and geographies. He served as the Global Programme Director for the integration of the erstwhile American Express Bank's consumer banking business with Standard Chartered. He was a key Member of the Leadership Team of Standard Chartered Bank in India. He served as the Chairman of Standard Chartered Investments & Loans (India) Ltd. He is a Chartered Financial Analyst, Company Secretary and a qualified Cost and Management Accountant. Mr. Iyer has an MBA from the UK.
PARTNERS