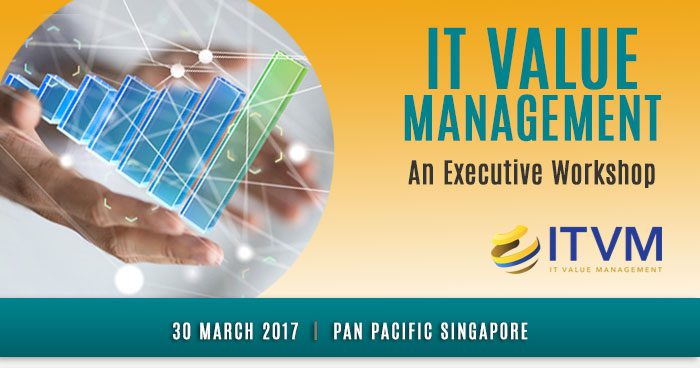 IT should no longer be regarded as a cost centre. In fact, it is fast becoming second nature to think of IT being essential to businesses in achieving value. This ITVM workshop is specially designed by CIO Academy Asia for Heads of IT infrastructure, cloud, data centre, applications, networks and security, to guide them on:
The use of a customer journey to highlight IT seismic shifts driven by business and consumer demands, and the limitations of current IT models to deliver the value needed
Why there is a critical need to focus on value to business instead of just operational IT practices
The right executive communication and reporting needed on how the IT infrastructure can add value to business goals
Sharing of a best practice framework to help govern and communicate the concept of value to stakeholders and achieve the new IT model according to business needs
Key Takeaways
Learning through an interactive sharing session to first illustrate on current IT changes based on changing consumer demands to businesses
Discussing the challenges of existing models (e.g. IT-as-an-operator, asset / project-driven) to deliver the value needed
Sharing a new model of IT that has been used successfully in various sectors (strategies and methodologies to transform successfully to the new model e.g. Cloud, IT-as-a-service, IT-as-a-business)
Using analytics to respond quickly to business needs and manage risks to IT applications and services

Glen Francis
President, CIO Academy Asia

Glen Francis has over 20 years of technology experience and has served on some executive boards and forums. Glen enjoys creativity and innovation and is well respected by his peers in the industry. He has the practical experience having served as the group and regional Chief Information Officer for listed companies, on non-profit associations as the Vice President for IT Management Association and President for IDeationEdgeAsia, on institutes of higher learning as their technology board adviser, and as a mentor for several startup companies.

Ng Tiong Gee
Advisor, CIO Academy Asia

Ng Tiong Gee is the former Senior Vice President (IT, Engineering and Estate Management) at Resorts World Sentosa. He is also the Lead Independent Director of Pacific Radiance Ltd, as well as an Independent Director in Yellow Pages (Singapore) Ltd. His previous appointments include, the CIO and CHRO of UTAC as well as the Senior Vice President (HR) and CIO of Stats ChipPAC. He has also held numerous key leadership positions in local and foreign IT firms. He was also a graduate of the Advanced Management Program from the Harvard Business School.

Andrew Campbell-Laing
Global Architect, NetApp
Andrew is the Strategic Consulting Lead based in the UK. With over 25 years of experience, he specialises in systems engineering through to support, consultancy and ultimately architecture and consulting for diverse sectors. In his work in NetApp, he delivers Service Catalogues and Service Platforms for RBS, BT, Fujitsu and other companies. He works with companies to ensure that their enterprise architecture drives both a service orientated approach following ITILv3 frameworks AGILE and TOGAF as methodologies to capture business, match business needs and reduce time-to-value.

Jon McBride
District Manager, OnCommand Insight APAC, NetApp

Jon is responsible for the NetApp OnCommand Insight (OCI) software business for the Asia Pacific region. OCI is the industry leading device and storage management software solution which provides Infrastructure analytics for the enterprise to manage multi vendor environments. OCI reduces cost, improves operational effectiveness and mitigates risk while providing vital analysis for cloud migration and datacentre transformation. Jon has over 22 years experience in IT sales leadership, solution selling, presales and infrastructure consulting across Enterprise, govt, education and mid market. Jon's career has spanned the UK, Australia and now Asia Pacific.
Event Details
Venue: Ocean 5, Level 2
Address: Pan Pacific Singapore
7 Raffles Boulevard, Marina Square
Singapore 039595
Date: 30 March 2017, Thursday
Time: 9.00AM – 1.00PM
In Partnership with NetApp