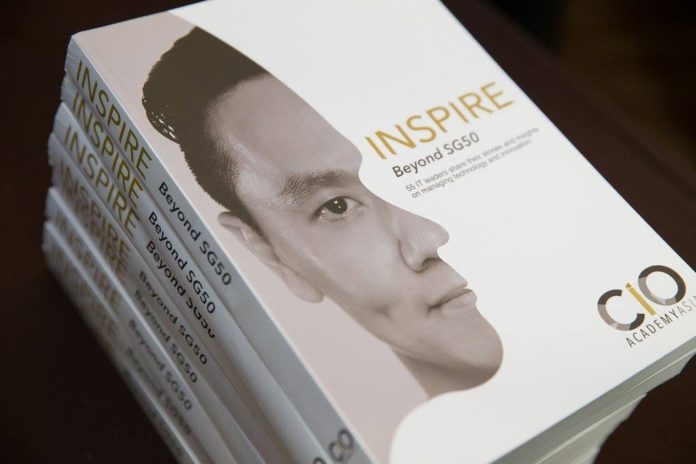 This article is published by Tech Goondu, November 8th 2016.
When I heard that there will be a book written by chief information officers (CIOs), I thought everything in it will be dealing with IT systems. After all, CIOs would be dealing with vendors, deciding on technologies to use, getting user feedback and implementation. 
I wasn't wrong but embedded in each of those functions which I missed are equally important issues that have little to do with IT. Think innovation, strategy, integrity and relationships.
Called Inspire Beyond SG50, the book was launched last week by Gabriel Lim, the second permanent secretary, Ministry of Communications and Information and chief executive of the Infocomm Media Development Authority.
It offers a rare peek at how CIOs play a pivotal role in helping oganisations meet challenges, achieve objectives and realise their vision. Published by the Singapore-based CIO Academy Asia, it also represents the first time that so many CIOs have come together to share their experiences.
The 55 CIOs who contributed to the book hope their experiences will guide and motivate the next generation of IT leaders. At a time when doing business across borders is important, the experiences from CIOs with regional responsibilities can come in handy.
CIO Academy Asia president Glen Francis said that the book will provide a "useful reference for organisations undergoing digital transformation and for tech professionals faced with complex challenges".
He also hoped to inspire students and the next generation of tech professionals with the real stories and experiences of innovation and transformation.
Through Inspire, "we hope to bring together CIOs, tech professionals and business executives to build a community where they can share insights, knowledge and experiences", he said.
Inspire is divided into seven categories namely integrity, new/innovation, strategy, people, implementation, relationship and excellence. The book is full of insightful gems.
Catherine Goh writes about the CIO's integrity as she recounts her experience as the CIO of a National Kidney Foundation (NKF).
To remind readers, the NKF in 2005 was embroiled in a long-winded scandal involving its chief executive at that time, T T Durai. The scandal revolved around false declarations on NKF's reserves, its number of patients and Durai's salary, use of company cars and first-class air travel.
Goh recalled: "I was in for a culture shock at NKF as I uncovered archaic systems in operation which were at least 10 years old – the screen displays were like the Teletext TV screens and were all text-based."
"There had been plans to replace them and work was in progress but was abandoned. As such, there was much to be done to transform the entire IT operations into one that can provide efficiency, security and data integrity to support the vision of the new NKF as a responsible and transparent organisation," she said.
"Above all, the new systems and processes must be able to withstand the intense scrutiny of the public auditors, especially after the saga," she added.
Innovation, the buzz word so popular today, is also highlighted in Inspire. Alice Abigail Tan, CIO of a fast moving consumer goods company, points out that it is important for managerial mindsets to change before organisations can become innovative.
"We worked tirelessly on a new in-store concept proposal and took it on ourselves to also suggest possible cross-marketing and branding ideas," she said.
"But the management failed to see the wider implications for innovation. We were told we were not in marketing and so the ideas were criticised," she wrote on Getting Past Common Mindsets.
Managing relationships between end users and the IT department can be a big headache for CIOs. Deny Rahardjo, who has worked as CIO with several multinational corporations, recalls how requests by end users were always met by a "no" from the IT department.
Indeed, book explores a lot more real-life stories on how Rahardjo, Tan, Goh and other CIOs resolved problems and challenges they faced.
It is sold online at Kitaab Store.
Grace Chng is a veteran tech writer.
Read the full article here.