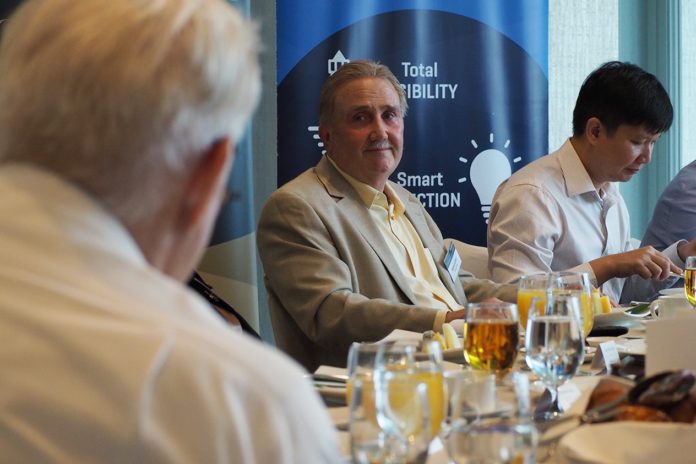 Distinguished CEO Series -Achieving a Unified Cybersecurity Strategy
21 September 2017
CIO Academy Asia hosted an Exclusive Breakfast Roundtable with Robert Lentz, President & CEO of Cyber Security Strategies, Board Member of LogRhythm (Former CISO United States Dept of Defence) at Mandarin Oriental Singapore, in partnership with LogRhythm
Robert gave his take on the importance of having a unified cybersecurity strategy to ensure Cyber-resilience. He strongly felt that the new threat landscape requires a completely new approach by using AI detection techniques to thwart the attackers. He also shared the Cybersecurity Maturity Model where enterprises must aim to have predictive capabilities with rapid forensics to protect key resources and continue biz operations despite cyber attacks.
---
About Robert Lentz -Robert Lentz is currently president of Cyber Security Strategies. He was recently on the prestigious Cyber Security Hall of Fame committee and Presidential Cyber Commission. Being the first Deputy Assistant Secretary of Defense for cyber security, Robert Lentz wrote groundbreaking policies that set the pathway for operating in cyberspace. He spent 26 years at the National Security Agency, where he served in the historic National Computer Security Center with many of the Internet pioneers and ultimately became NSA's Chief of Network Security. In November 2000, he was appointed CISO for the Secretary of Defense, culminating in 2009 assisting President Obama to approve the Comprehensive National Cyber Security Strategy and DOD Cyber Command. He stimulated unprecedented venture capital investment in cyber technology and numerous international Cyber Security agreements. With nearly 200 certified colleges and universities, he is recognised for creating academic excellence. Robert has served as a Director of LogRhythm's Board since 2012.

About LogRhythm – LogRhythm, a leader in security intelligence and analytics, empowers organizations around the globe to rapidly detect, respond to and neutralize damaging cyber threats. The company's award-winning platform unifies next-generation SIEM, log management, network and endpoint forensics and advanced security analytics. In addition to protecting customers from the risks associated with cyber threats, LogRhythm provides innovative compliance automation and assurance, and enhanced IT intelligence.