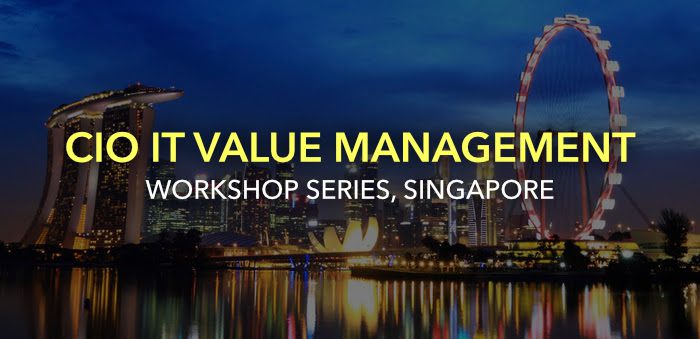 It's no secret: Being innovative is difficult even for the well-established companies.
Translating ideas to customer value starts with Design Thinking to help with proper problem definition.
Design Thinking helps to combine high-level aspirations with estimates of the value that innovation should generate to meet financial-growth objectives. Quantifying an "innovation target for growth," and making it an explicit part of future strategic plans, helps solidify the importance of and accountability for innovation.
In collaboration with the University of ESSEC (France) we have evolved the first workshop series centered around IT Value Management (ITVM) – Design Thinking.Taking a Design Thinking perspective, CIOs and their teams focus on empathizing with their "customers" to understand and find a refreshing way to deliver new customer solutions, products, or services that are different – not for the sake of being different – but different to create better value for the customer – in this case it maybe their internal stakeholders.
Join us for our inaugural IT Value Management workshop in Singapore. This workshop series seeks to help CIOs create, manage, measure and communicate IT value to business.
Discover how you can implement IT Value Management to align value of IT with business outcomes.We believe that through the interactions with peers , you can be the difference in your organisation.

TRAINER: KEVYN YONG
Prof. Kevyn Yong is the Academic Dean of ESSEC Asia-Pacific and Associate Professor of Management at ESSEC Business School. Prior to joining ESSEC, he was Associate Professor of Management at HEC Paris and also taught courses at Cornell University and the National University of Singapore.
He has been recognised for teaching excellence, notably being awarded the Pedagogy Innovation Prize by the HEC Foundation in 2011 and making the Dean's Honor Roll at the S.C. Johnson School of Management at Cornell University in 2005 and 2006. While at HEC Paris, he has taught in the EMBA, MBA, PhD, and customised executive programmes for the HEC-ATOS Gold Talent Development programme in France, the King Faisal Specialist Hospital and Research Center in Saudi Arabia, and the RI Advice Group from Australia. In addition, Kevyn has also delivered customised leadership and innovation programmes for Amazon in Paris, France; EBAY in Shanghai, China; and BNP Paribas in Singapore.
Kevyn's research focuses on creativity, innovation, entrepreneurship and leadership, particularly in the areas concerning cognition, collaboration, and social networks. His work has been published in the Journal of Econometrics, the Journal of Experimental Psychology: General, the Journal of Experimental Social Psychology, and Small Group Research.

CIO PANELIST: NG TIONG GEE
Mr Ng Tiong Gee is the current Senior Vice President for Innovation and Technology at Resorts World Sentosa. He has over 30 years of experience in the Information Technology sector and in Strategic Human Resource management.
Mr Ng was the Chief Information Officer as well as the Chief Human Resource Officer of United Test and Assembly Center Ltd from 2008 to 2013. An accomplished C and Board level executive with proven success in building and leading high performance teams across multiple geographies, Ng has proven himself as a strategic thinker that is versatile in playing multiple roles at large and small corporations.
Mr Ng holds a Master of Business Administration from Nanyang Technological University of Singapore, and also attended the Advanced Management Program at the Harvard Business School.

CIO PANELIST: CANDICE POH
Candice Poh is the current CIO of Consumer Singapore and International Group and the Regional Head of Group IT Governance, Planning, Enterprise Architecture and Service Excellence in Singtel.
She plans and leads regional IT planning workshops involving more than 60 senior IT leaders such as Group CIO, VPs, Heads and Directors in both Singapore and Australia.
Partnering business stakeholders to understand, shape and prioritise demand for IT solutions and services, Candice has enabled business growth and innovation with better management of IT capital investment, and transformed Group IT culture and mind-set to deliver service excellence.
Event Details
Venue: ESSEC Business School
Address: 5 Nepal Park, Singapore 139408
Date: 12 July 2016, Tuesday
Time: 9am – 4pm
In Partnership with ESSEC Business School.