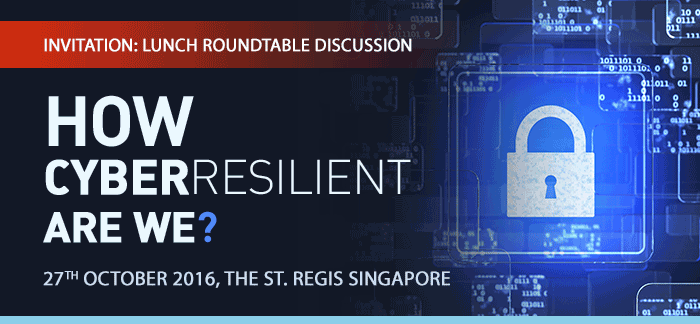 The security threat landscape is constantly changing; attacks are becoming more frequent and increasing in severity, its no longer a question of 'if' but rather 'when' will it happen!
Technologies such as cloud computing, social networks and powerful mobile devices are making networks more porous, creating more opportunities for attackers to infiltrate organisations. As many breaches go for months before they are detected, organisations are starting to take a more proactive approach to cyber-security, the key is to make sure that we are Cyber-Resilient!
According to the Scottish government, Cyber resilience is being able to prepare for, withstand, rapidly recover and learn from deliberate attacks or accidental events in the online world.
As we strive for business preparedness, business continuity, and business improvements, we must embrace cyber resilience which will require us to:
Maintain a state of preparedness against attacks to prevent or reduce compromises of business functions
Monitor continuously to capture attack activity that cannot be blocked
Capture activity information for forensics, investigation and sophisticated attack detection
Be able to continue executing core business functions despite a successful attack
Restore business functions as best as possible after successful attack
The roundtable dialogue will attempt to discuss the challenges surrounding the new and evolved cyber threats, giving you an overview of how these schemes function and how they can be spotted and responded to early enough in the threat lifecycle to severely limit the potential damage.
Join us at this exclusive roundtable and together we will discuss key topics such as cybersecurity policies, insider/unknown threats, cyber-insurance, protecting your legacy systems and high value assets as you innovate and increase your attack surface with new disruptive technologies and other 'keeping us awake' cybersecurity issues.

Paul Hadjy
Head of IT and Information Security, Grab
Paul is the Head of IT, Information Security, and Business Process Automation at Grab one of Asia's largest startups. He has spent the last six months helping Grab scale its IT and Cyber Security processes to support its explosive growth in business and size. Prior to Grab Paul was a technology visionary working across the US, Middle East, Singapore, Korea and New Zealand to build Palantir's business in both the private and public sectors. He helped Palantir advance into new business lines including Anti-Money Laundering, Insider Threat, Cyber, and Government applications. Focusing on using his experience with Palantir to help the company advance into new business lines managing products including Anti-Money Laundering, Insider Threat, Cyber, and government applications. With a recent focus in commercial banking he has helped grow and integrate Palantir in multiple large organisations.

Alvin Rodrigues
Assistant Vice President, Security Strategy – Asia Pacific, Fortinet
Alvin Rodrigues has over 20 years of experience in the IT industry. At Fortinet, he is responsible for sales and marketing strategy, program development, business messaging, and the deployment of the strategies through the different routes to market across South-East Asia and Hong Kong. He speaks at public forums and events on security, and engages with executives one-to-one or over roundtable discussions to understand their security challenges and propose solutions optimised to their business needs.

P. Ramakrishna
Deputy CEO, CIO Academy Asia
P. Ramakrishna has been involved with the ICT domain for the public sector for more than 30 years from 1983-2014. He joined Infocomm Development Authority (IDA) in 1999, his last held position was Director of IDA's Industry Development Division. Prior to IDA, Rama worked in the Ministry of Defence for 16 years.
Event Details
Venue: Diplomat Room, Level 1/Lobby Level
Address: The St Regis Singapore, 29 Tanglin Road, Singapore 247911
Date: 27th October 2016, Thursday
Time: 12.00PM – 2.00PM
In Partnership with Fortinet