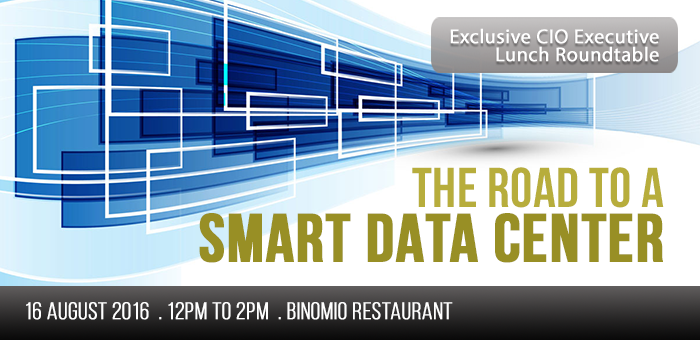 Data is the new Gold in this current economy. The collective amount of data globally is worth more than our total oil reserves.
Building traditional data centers to support such explosion of data is no longer efficient. With the advent is sensors, the context of IOT and paying as a service, CIOs can now help their organization own data center infrastructures easily or enable their existing data center infrastructure to become smarter.
Smart is the way to go when it comes to the next generation of data center facilities. Smart buildings are no longer a dream from the future, and are very much becoming a reality in today's day and age. When it comes to data center facility management, there is a world of new techniques and strategies that can be adapted to improve and optimize data center services. The spectrum of changes that can be implemented is huge and far-reaching, and organizations need to plan strategically make decisions that work best for them.
Join us for this luncheon to discuss how CIOs and their teams can manage their data center infrastructures more effectively – improving operational continuity, energy efficiency and enabling performance monitoring. We will also discuss the potential of converting these back end infrastructure which is seen as a black box to our business to potential revenue generating facilities.
KEY DISCUSSION TOPICS

INSTRUMENTATION
This is a big driver when it comes to creating innovative solutions for energy efficiency. Without measurement, one cannot clearly understand the value of the large investment has been put in into sensors, monitors and meters. These sensors and systems automate the measurement of system performance and energy usage under different environmental and equipment conditions.
INTERCONNECTION
The solution integrates the various instrumentation systems with the asset management systems to give a holistic view of energy usage and costs, facility performance and carbon footprint.
INTELLIGENCE
Extensive use of state-of-the-art data storage devices and analytic systems helps proactively detect faults and trends and propose strategies to save money before any of the end users are impacted.

Alan Goh
Chief Information Officer, M1
Alan Goh joined M1 in March 2011. He leads the Information Systems department in M1 and is responsible for the overall information technology strategy, planning, implementation and operations of M1's technology infrastructure and application systems. These systems support business activities across sales, customer care, billing, payments, and call centre functions.

P. Ramakrishna
Deputy CEO, CIO Academy Asia
Rama has been involved with the ICT domain for the public sector for more than 30 years from 1983-2014. He joined Infocomm Development Authority (IDA) in 1999, his last held position was Director of IDA's Industry Development Division. Prior to IDA, Rama worked in the Ministry of Defence for 16 years.
Event Details
Venue: Binomio Spanish Restaurant
Address:20 Craig Rd, Craig Place #01-02, Singapore 089692
Date: 16 August 2016
Time: 12:00pm – 2:00pm