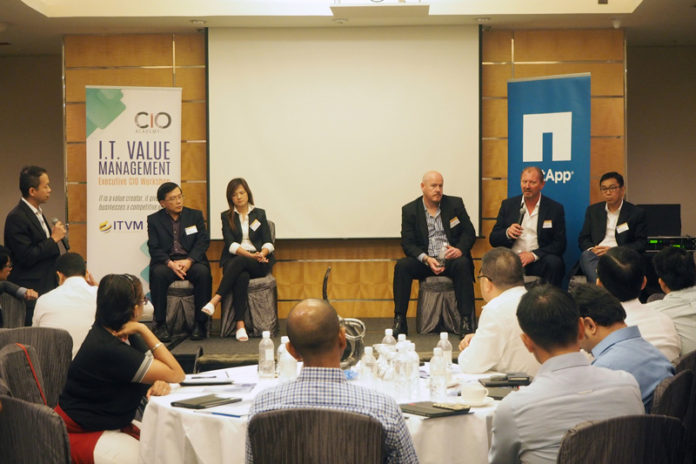 30 March 2017
Increasingly, IT Leaders are under pressure to function within tighter budgets because of the overall economic environment that the world finds itself in: there are internal forces (cost pressures, declining margins, and smaller headcounts) as well as external forces (new regulations and technological developments) that drive the daily operations and the strategic direction of the IT departments. In such a challenging situation like this, IT Leaders have a tough time to navigate carefully in order to deliver the value required by their businesses. However, their very survival and success depends on their ability to communicate to their boards and stakeholders the value they contribute to their respective organisations.
To understand the nuances and the imperatives of IT value management, CIO Academy Asia (CIOAA) conducted a half-day workshop on 30 March in Singapore. Data management and cloud solutions provider, NetApp, was the main partner for the workshop. Over 30 IT leaders participated in this workshop where they discussed and learnt about how they can highlight the value of IT to their stakeholders and deliver IT value to the business.
IT Doesn't Matter—Delivering IT Value Successfully
Talk business, not technology – IT Leaders need to learn three skills : create value, find value and communicate value (to your boards and stakeholders).
IT per se does not matter: you don't just have to implement a project because that is par for the course; what matters is how you add value on top of that.
Value changes over time – "Show value (of your IT) or someone else will eat your lunch".
Pay attention to strategy management in infrastructure projects
Top priorities for IT Leaders range from saving with operational efficiencies to driving revenue growth and setting strategy and governance, running IT as a business, rationalising applications and managing by portfolio.
Todays technology is shaping industries, and top priorities for innovation should be agility and nimbleness. IT Leaders should portray IT as a value centre, not a cost centre!
IT Leaders should not focus on cost or timelines, it should be conveyed as value to the board quickly, securely and in a manner that the business can consume
The new IT model, that has become the new touchstone in the market is characterised as software-defined, with elements such as cost, control, choice, agility, insight and risk that IT Leaders have to deal with.
Align IT with business, and have a service catalogue, which offers both performance and protection.
Devising a service cost model is important as it allows customers to pay for what they use.
Caution IT Leaders against the challenge of transformation – Don't underestimate it as it involves buy-in from various quarters, including the challenge of getting executive sponsorship.
Customers today want services (even from infrastructure providers) and want to be consumers.
The half-day workshop, packed with powerful presentations from industry veterans, ended with the concluding note that IT has to be seen as a business partner for IT Leaders to effectively communicate its value to the stakeholders.
---
To find the PDF version of this report, please head over here.

Glen Francis
President, CIO Academy Asia
Glen Francis has over 20 years of technology experience and has served on some executive boards and forums. Glen enjoys creativity and innovation and is well respected by his peers in the industry. He has the practical experience having served as the group and regional Chief Information Officer for listed companies, on non-profit associations as the Vice President for IT Management Association and President for IDeationEdgeAsia, on institutes of higher learning as their technology board adviser, and as a mentor for several startup companies.
Speakers

Ng Tiong Gee
Adviser, CIO Academy Asia
Ng Tiong Gee is the former Senior Vice President (IT, Engineering and Estate Management) at Resorts World Sentosa. He is also the Lead Independent Director of Pacific Radiance Ltd, as well as an Independent Director in Yellow Pages (Singapore) Ltd. His previous appointments include, the CIO and CHRO of UTAC as well as the Senior Vice President (HR) and CIO of Stats ChipPAC. He has also held numerous key leadership positions in local and foreign IT firms. He was also a graduate of the Advanced Management Program from the Harvard Business School.

Andrew Campbell-Laing
Global Architect, NetApp
Andrew is the Strategic Consulting Lead based in the UK. With over 25 years of experience, he specialises in systems engineering through to support, consultancy and ultimately architecture and consulting for diverse sectors. In his work in NetApp, he delivers Service Catalogues and Service Platforms for RBS, BT, Fujitsu and other companies. He works with companies to ensure that their enterprise architecture drives both a service orientated approach following ITILv3 frameworks AGILE and TOGAF as methodologies to capture business, match business needs and reduce time-to-value.

Dason Bodilly
Software Director for EMEA & APAC
Dason is responsible for the NetApp OnCommand Insight (OCI) software business for the EMEA & Asia Pacific region. OCI is the industry leading device and storage management software solution which provides Infrastructure analytics for the enterprise to manage multi vendor environments. OCI reduces cost, improves operational effectiveness and mitigates risk while providing vital analysis for cloud migration and datacentre transformation. Dason has over 30 years experience in IT sales leadership, and transforming technology into business solutions. Dason has presented at international Finance and Telecom forums all over the world, including global events in Barcelona, Cannes, Tel Aviv, Boston and Sydney.
Partner