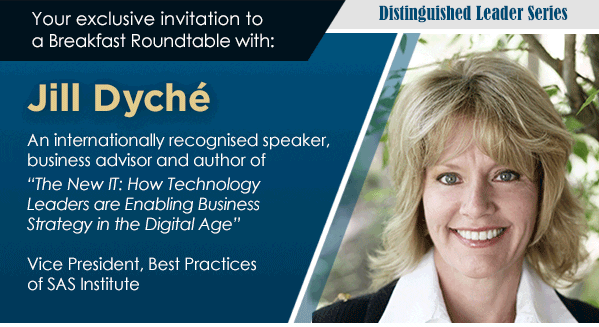 An Exclusive Breakfast Roundtable with Jill Dyché – Advisor and Best-selling Author
Jill Dyché – frank, funny, and full of great stories – has been thinking, writing, and speaking about business-IT alignment for over two decades. In her career as a consultant and advisor to executives across industries, she's seen technology organisations deliver strategic change, and has worked with managers across IT and business organisations to make it stick.
Information Week named Jill one of the "Twelve Most Influential Women in Big Data and Data Science," and Retail Leader pronounced her one of their "2017 Women to Watch".
Jill Dyché is an internationally recognised author, speaker, and business advisor, with past experiences in advising executives and boards of directors on strategic importance of IT investments. Executives from companies including Charles Schwab & Co., PepsiCo, Lowe's, Verizon, and Microsoft have relied her counsel in the areas of analytics and data strategy, innovation, and organisational design.
Together with Jill and your fellow tech luminaries from the banking sector, we shall discuss the trends disrupting the world of financial technology, and how innovation, analytics as strategy, and using data for good can ensure survival in this digital age.
Jill Dyché's latest book, "The New IT" offers fresh frameworks for transforming enterprise IT organisations. It also features case studies of executive change agents across the technology and business divide. Designed for both IT leaders and business executives, the book features comprehensive assessments which offers readers a series of next steps to take to, as Jill says, not only embrace a new kid of IT, but kiss it on the lips!
Inc. Magazine recently listed "The New IT" as one of its "60 Great Business and Leadership Books Written by Women."
Event Details
Venue : Artemis Grill – CapitaGreen
Date: 2 november 2017, Thursday
Time: 9.00am- 11.00am
In Partnership with SAS