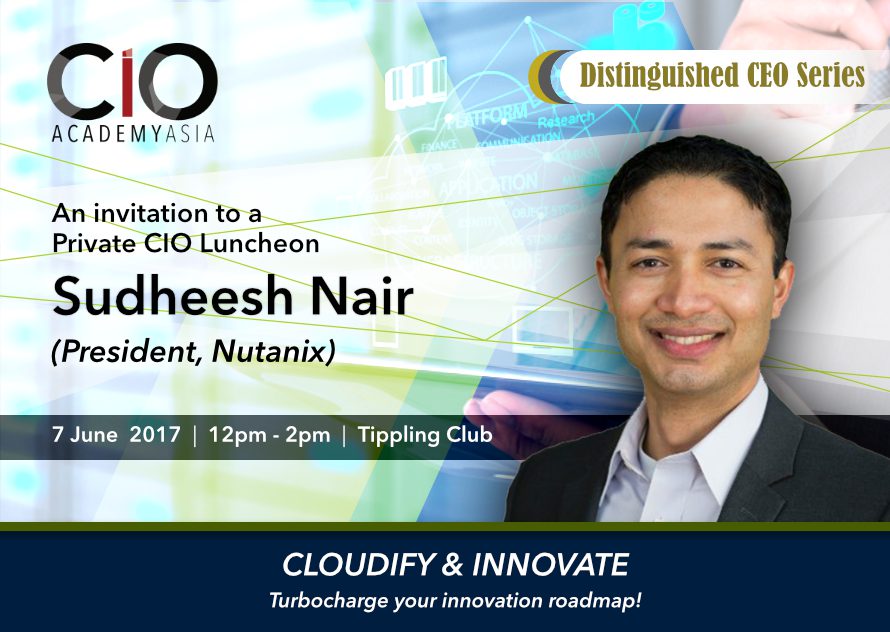 An Exclusive Lunch Roundtable:
Cloudify & Innovate | Turbo charge your innovation roadmap
The Cloud evolution has paved the way for CIOs to innovate, deploy and scale at unprecedented speed.
Join us in an exclusive, invite only lunch discussion with the President of Nutanix, Sudheesh Nair, and exchange perspectives on how you can turbo charge your innovation roadmap!
About Sudheesh Nair – Sudheesh is President of Nutanix, the leader in enterprise cloud infrastructure. Sudheesh led Nutanix through its recent Initial Public Offering (IPO) on NASDAQ in September 2016. Sudheesh focuses on building a world-class team of enablers and disrupters who believe that innovation can, and should, happen in every function and at every level. Prior to Nutanix, Sudheesh worked in various field-facing roles for many California startup companies including XIV (an IBM Company), ONStor, Zambezi.
Event Details
Venue: Tippling Club Singapore
38 Tanjong Pagar Rd, 088461
Date: 7 June 2017 (Wed)
Time: 12:00PM – 2:00PM
In partnership with Nutanix