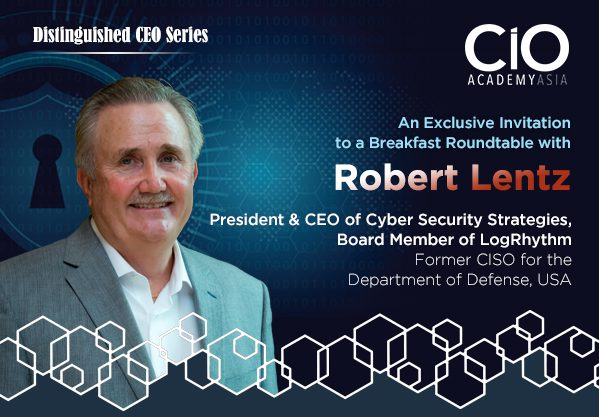 An Exclusive Breakfast Roundtable:
Achieving a Unified Cybersecurity Strategy
A Unified Cybersecurity Strategy is Key to Ensuring Cyber-resilience!
Your weakest link can bring your organisation down!
When it comes to cyber resilience, organisations everywhere have a challenging time forging a strong chain of security as they battle rapidly increasing and evolving cyber threats. The key to responding to today's threats is to quickly achieve a unified cybersecurity strategy that is built with a blend of information security infrastructure and employee practices, coupled with a comprehensive view of user, network and end-point activity.
Join us for an exclusive breakfast roundtable with Robert Lentz, former CISO of Department of Defense on:
-How cybersecurity is evolving over the near and long term
-Why detecting user threats is so important – and so difficult
-Best practices to build a cyber resilient organisation
About Robert Lentz – Robert Lentz is currently president of Cyber Security Strategies. He was recently on the prestigious Cyber Security Hall of Fame committee and Presidential Cyber Commission. Being the first Deputy Assistant Secretary of Defense for cyber security, Robert Lentz wrote groundbreaking policies that set the pathway for operating in cyberspace. He spent 26 years at the National Security Agency, where he served in the historic National Computer Security Center with many of the Internet pioneers and ultimately became NSA's Chief of Network Security. In November 2000, he was appointed CISO for the Secretary of Defense, culminating in 2009 assisting President Obama to approve the Comprehensive National Cyber Security Strategy and DOD Cyber Command. He stimulated unprecedented venture capital investment in cyber technology and numerous international Cyber Security agreements. With nearly 200 certified colleges and universities, he is recognised for creating academic excellence. Robert has served as a Director of LogRhythm's Board since 2012.
Event Details
Venue : Mandarin Oriental, Singapore
Harbour View Suite 1, Level 5
Date:21 September 2017, Thursday
Time: 8:30AM – 10:30AM
In Partnership with LogRhythm