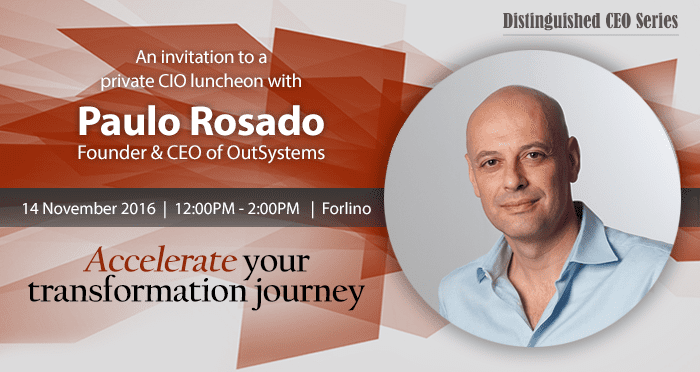 An Exclusive Lunch Roundtable:
Accelerate your transformation journey
In today's digital economy, organisations require the ability to innovate and differentiate with digital systems that adapt as fast as their business demands.
Join us in an exclusive, invite only lunch roundtable, with OutSystems' Founder & CEO, Paulo Rosado to discuss how you can accelerate your digital transformation journey in a trusted way.
Paulo Rosado is the Founder & CEO of OutSystems. Since founding the company in 2001, he has led it from initial startup to an international leader in cutting-edge approaches to the delivery of enterprise web and mobile applications. As CEO, he is responsible for OutSystems' day-to-day operations, as well as leading the company's product development and technology strategy. Before OutSystems, Paulo was Executive VP of Global Marketing at Altitude Software, a CRM company present in 32 countries. Before joining Altitude, he co-founded Intervento, an e-business software infrastructure company, acting as its CEO until the company was successfully sold in 1999. Previously Paulo worked in Silicon Valley for Oracle Corp, where he held multiple positions in R&D and product management. Paulo has participated in multiple executive education programs, and holds a Master's in Computer Science from Stanford University and a Computer Engineering degree from Universidade Nova, Lisbon.
Event Details
Venue: Forlino
Address: One Fullerton
Date: 14 November 2016
Time: 12:00pm – 2:00pm
In Partnership with Outsystems