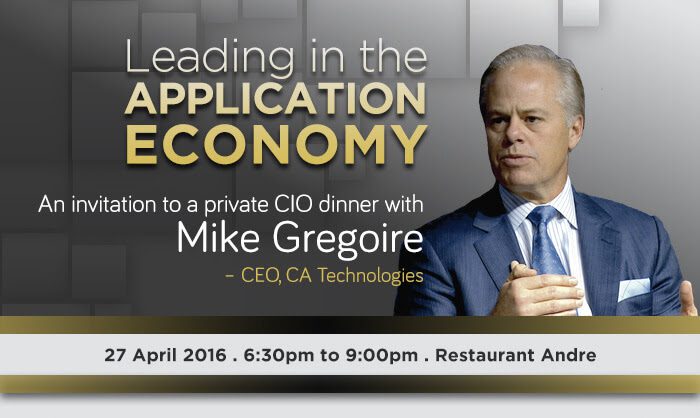 An Exclusive CIO Dinner :
Leading in the Application Economy
CIO Academy Asia (CIOAA) is honored to be hosting Mike as part of our Distinguished CEO Series. He will share the concept of the Application Economy, how to build an agile society and what was discussed by leaders who attended the prestigious forum in Switzerland.
We are delighted to host Mike Gregoire at one of the World's 50 Best Restaurants that is located right here in Singapore helmed by Chef Andre Chiang. Restaurant Andre is also one of the Top 5 restaurants in Asia. His sommelier will also share with us some of the finest wines their restaurant has to offer.
Mike Gregoire is Chief Executive Officer of CA Technologies, and a member of its Board of Directors. Mike recently attended World Economic Forum in Davos with other Government and industry leaders. One of the three key themes at WEF Davos 2016 was "Mastering the Fourth Industrial Revolution".
Mike is a 25-year veteran of the software industry, where he has done everything from writing software code, to managing large consulting businesses, to leading a fast-growing cloud-based software company.
Event Details
Venue: Restaurant Andre
Address: 341 Bukit Pasoh Road, Singapore 089855
Date: 27 April 2016, Wednesday
Time: 6:30PM – 9:00PM