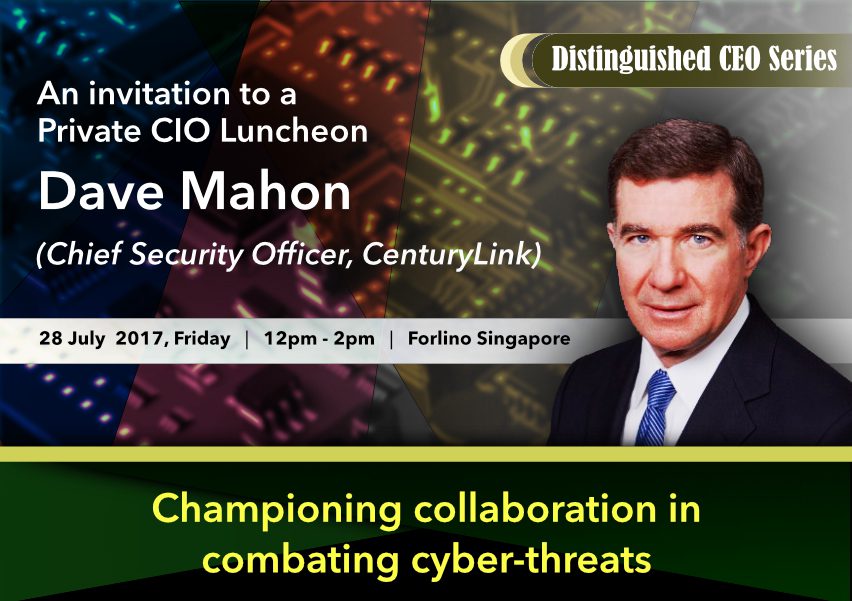 An Exclusive Lunch Roundtable:
Championing collaboration in combating cyber-threats
With the rise of IoT and intelligent edge technologies, organisations are more vulnerable than ever to cyber-attacks.
In addition, a new Cyber Security Bill will be introduced later this year, to address security gaps in Critical Information Infrastructure (CII), including those used to run banking, telecoms, transport, healthcare and energy essential services.
What will this mean for your organisation?
Join a Dave Mahon, Chief Security Officer for CenturyLink, as he shares current best practices and explores new proactive strategies and policies to combat and withstand cyber-threats.
Understanding that breaches will occur, security executives must work with senior leaders and boards of directors to assess value, measure costs, and identify risk to then properly architect and implement a comprehensive security programme.
Key discussion points:
-A view from the Board of Directors
-Balancing threats versus compliance
-Dealing with ever increasing regulatory and litigation actions
-How to develop a cyber risk management strategy
About Dave Mahon – R. David (Dave) Mahon was appointed chief security officer for CenturyLink, Inc. in April 2011. As CSO for the third-largest communications provider in the U.S., his responsibilities include enterprise wide security strategy, information security, cyber defense, critical infrastructure protection, physical security, network fraud and abuse, industrial security, international travel security, threat intelligence, workplace violence prevention, executive protection, investigations, and he is also the company's liaison with the National Security Telecommunications Advisory Council (NSTAC), National Cybersecurity and Communications Integration Center (NCCIC), as well as federal and state law enforcement and homeland security agencies.
Event Details
Venue: Forlino
Address: 1 Fullerton Rd, One Fullerton #02-06,Singapore 049213
Date: 28 July 2017, Friday
Time: 12pm – 2pm
In Partnership with CenturyLink