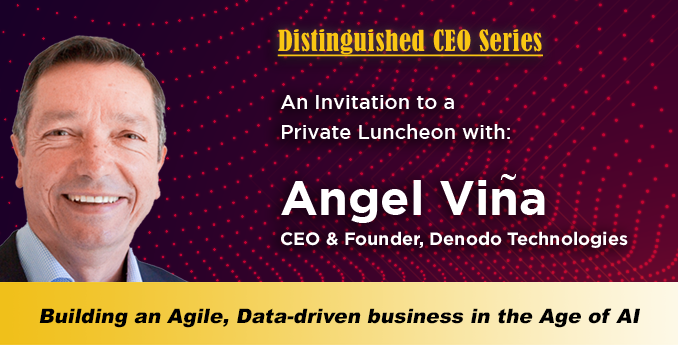 Building an Agile, Data-driven business in the Age of AI
Digitalisation and unprecedented connectivity has redefined the competitive landscape for organisations today. While this creates disruptive risks for businesses, the difference between organisations that adapt well to the rapid pace of change and those who do not, is their ability to harness the power of data and evolve quickly with changing market demands.
As enterprises move towards a data-driven future, what they need more than ever is a seamlessly integrated core that leverages data insights to accelerate business outcomes in digital transformation projects.
Hear from Angel Viña, Chief Executive Officer of Denodo Technologies, as he shares his perspectives on the way that the business environment is being reshaped, and how you could leverage data-driven capabilities to realise exponential gains from data amidst ongoing technological shifts.
---
About Angel Viña (CEO & Founder, Denodo Technologies)- In addition to serving as CEO, Angel Viña is the founder and president of the board of directors. He received a PhD in Telecommunication Engineering from the Technical University of Madrid in 1987. He has been postdoctoral research visitor at UCLA and Stanford University (1989-1990), as well as a professor at several other universities. During the last ten years, Dr. Viña has guided Denodo's progress from pre-corporate status as a university research group through commercialization, VC funding, and current global expansion.
Event Details
Venue : Ruth's Chris Steakhouse, Marina Mandarin Hotel
Date : 26 February 2019, Tuesday
Time: 12.00pm – 2.00pm
In Partnership with Denodo Technologies