June 22, 2020
By CIO Academy Asia
With COVID-19 having disrupted business models dramatically worldwide, should companies take on the added risks of digitally transforming their organisations? Can you afford to? Can you afford not –to?
This is a time of great opportunity, and during this Black Swan moment, your business models have to change, your internal processes have to transform, otherwise your competitiveness, and in some cases, your very survival would be at stake. This is the opportune time to go for DX (Digital Transformation).
That advice comes from Tony Saldhana, author of the recently published bestseller, "Why Digital Transformations Fail: The Surprising Disciplines of How to Take Off and Stay Ahead" and former Procter & Gamble Vice President for IT and Global Business Services. He was speaking at a roundtable organised by the CIOAA on the 9th June. The roundtable was moderated by CIOAA CEO Mr P. Ramakrishna.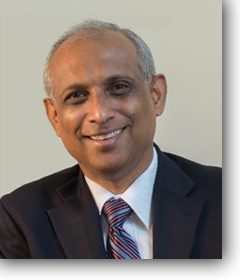 "Digital transformation is more important than ever now that we're in the Fourth Industrial Revolution, where the lines between the physical, digital, and biological worlds are becoming ever more blurred," said Mr Saldhana. "But fully 70% of digital transformations fail. Why? Because of a lack of clear goals and a disciplined process for achieving them."
5 stages of Digital Transformation
He has laid out a five-stage framework for making DX the backbone of corporations: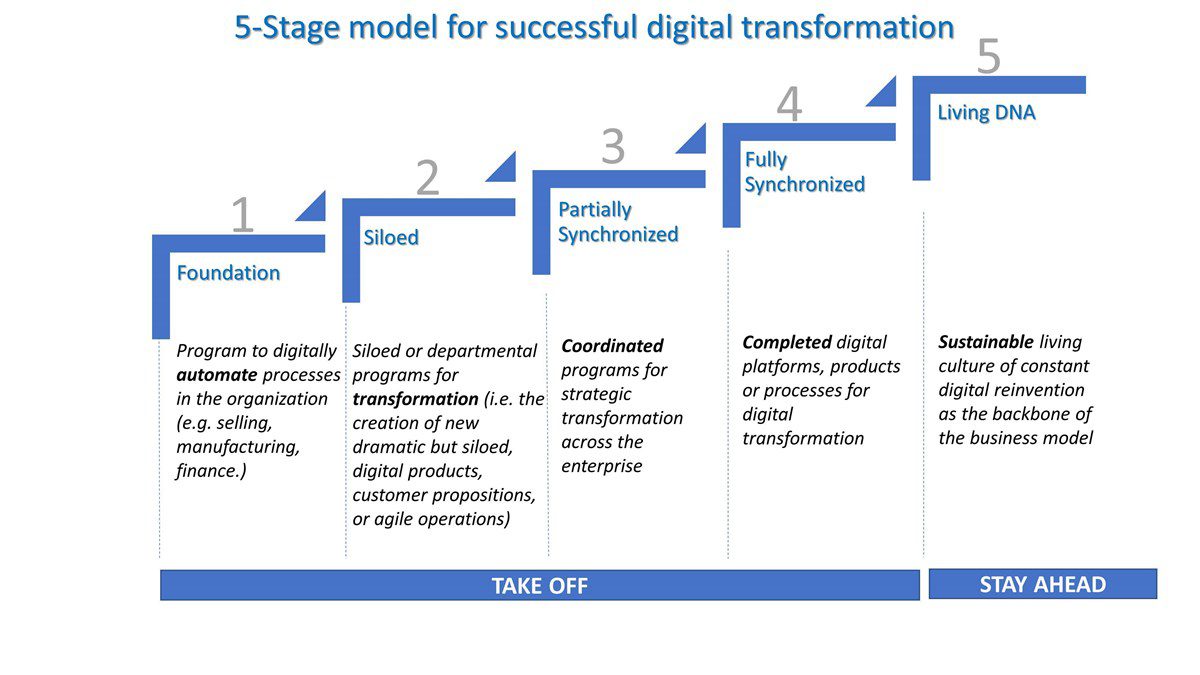 Foundation Stage: This is where companies begin automating internal processes, such as selling, manufacturing, or finance, using SAP, Oracle, Salesforce instead of Excel. Automating processes using digital platforms is necessary to convert manual effort into data. But again, it's not DX.
Silo Stage: This is where individual functions or sections may start to use disruptive technologies to create new business models. For example, manufacturing may begin using IoT things to drive changes on the shop-floor or logistics. But these efforts are siloed and not company-wide.
Partially Synchronised Stage: This is where the CEO recognises the disruptive power of digital technologies and defines a digital future state. But because of a mix of old and new business models, companies are unable to go for a complete DX, or fight nimble, digitally native competitors.
Fully Synchronised Stage: This is where an enterprise-wide digital platform or new business model has taken root. But this is a one-time transformation. The company is still just one technology (or business model) change away from being disrupted.
Living DNA Stage: This is where the transformation becomes fully synchronised and ongoing. The company gains industry leadership because it is disciplined in constantly innovating. It has a digitally savvy workforce and innovative business models. Digital has become part of the enterprise's DNA. Netflix is a good example.
According to Arvind Mathur, Chief Information Officer – AMEA of Kellogg Company, DX is about helping the business leadership make the shift from the world that they've been comfortable in, to this new world. "Different industries are impacted by this at different levels," he said.
"Leadership needs to develop new instincts and muscles for running the business digitally. Its currently happening at different speeds and urgency in different industries. Every step is like opening the layers of an onion. You can only see and perceive the first layer, and only after you open that layer do you realise that to get to the farther stages, you've got to open another layer. That's what I see as the five stages of DX."
Checklists inspired by the airline industry
Tony believes that there are lots of parallels in the steps needed to successfully take off in an airplane and those needed to successfully take off in a digital transformation. The aviation industry realised in the early part of the twentieth century that instead of relying solely on the skills of pilots for successful takeoff and landing, it could create a disciplined process and checklists for every person involved in the takeoff, in order to drive reliability of flight. The Digital Transformation stages have similar series of items that need to be checked at the set-up, takeoff and maintain stages.
Effective Leadership and the 70-20-10 work mantra
"I want to give Google a lot of credit, because a lot of stuff in my book was influenced by Google," Mr Saldhana said. "One of their previous HR managers has written a fabulous book on organising and culture. But here's the reality: If you are a stable company today, you're extremely successful in a given industrial revolution. But then, rewiring yourself for the next industrial revolution means dramatic improvements in internal business operations. So even the best-run companies, the cost of IT as a percent of sales is two times that of an equivalent digitally native company. So our internal business operations have to change."
The crux of the problem? Leadership. "We reward our people for stability. That's why companies like P&G are still around after 180 years," he said. "But then, during times of industrial revolutions you complain that people are not moving fast enough."
Google has always had an entrepreneurial mindset as its lifeblood since its inception. Ex CEO Eric Schmidt must be given credit for making transformation systemic via portfolio mix of work that includes big-bet ideas and incremental improvement ideas in addition to daily operations. He came up with a 70-20-10 ratio of employee capacity for innovation:
70% is dedicated to core business (business as usual)
20% is related to a core project (improvements)
10% is spent on unrelated new business (disrupt yourself)
Barbara Crane, Head of FSI and Enterprise for Singapore and Malaysia, Google Cloud, said "There are people who are extremely good at "business as usual", and then you need to have a re-fenced group, and I think this refers to a group that is able to be creative, to move things forward. This creative group, also has to bring the rest of the organisation, of course in different steps, to achieve the final results of the transformation".
Winning with Digital Transformation
A reputable CIO from a Singapore-based bank said that before the pandemic, the bank had a plan for DX. "Now with the crisis, we're looking for the new reality, and we'll find a path to that. First, you've got to protect, right? When you give loans, you have to protect the loan. Asset-light organisations tend to transform faster. Asset-heavy organisations take time. Banks have to protect. We have to protect our balance sheet, protect our capital, so that means loss prediction, loss mitigation, making sure we're with the customer to help them restructure the loan. That has become an important area to transform."
Mr Anish Malhotra, Head Customer Engineering, SE Asia, Google Cloud, said companies, especially SMEs, are asking questions that are tactical: I want to enable my remote workers; what can technology help me with? I need to run my business; how can technology help me?
"These are the three phases of what we call the Cloud Adoption Framework," he said. After this comes the strategic stage. How do you make sure that everything that you do around technology, people processes are in line with the corporate strategy? That conversation leads you to DX, where you have to transform and make sure that everything you do, whether it is people or processes or the technology is transforming."
A concluding remark from Tony:
"Digital transformation, which is the integration of digital technology into all aspects of a business, is a $1.7 trillion industry and yet 70% of all digital transformations fail! The issue is not technology, nor is it creativity, it is DISCIPLINE! With the current COVID pandemic crisis creating a burning platform to accelerate DX efforts, he/she who dares, wins!"
---
The Southeast Asia Technology Trends & Priorities for 2020 Report, published by CIO Academy Asia in collaboration with the Lee Kuan Yew Centre for Innovative Cities at SUTD, is now available for download.
Visit here to get your copy