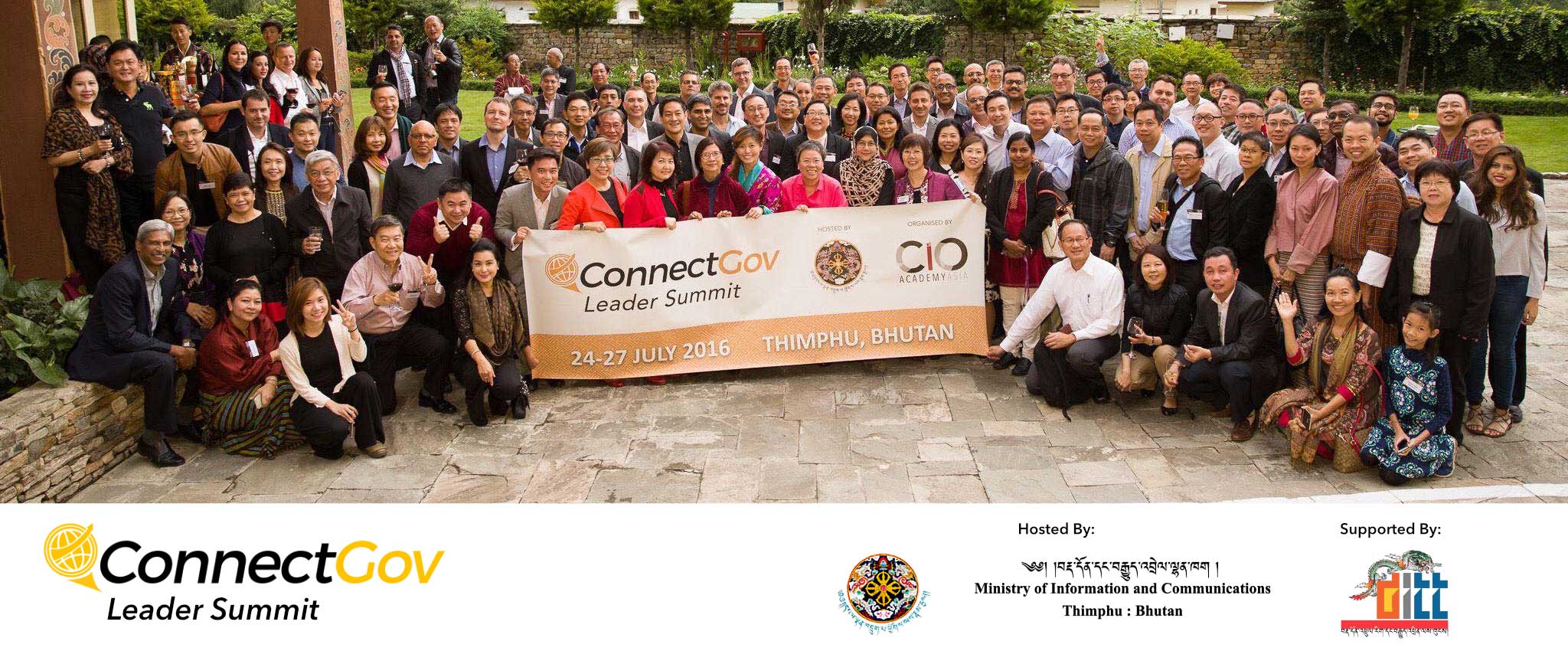 Over 140 APAC CIOs, government and business leaders as well as partners shared their insights on leading in a disruptive world at the inaugural ConnectGov organised by CIO Academy Asia.
CIO Academy Asia kicked off the inaugural ConnectGov Leader Summit 2016 in Bhutan in high gear with an invigorating line-up of speakers and in the company of over 140 esteemed Asia Pac CIOs, government and business leaders as well as partners.
The 2-day Summit (25-26 July 2016) drew senior leaders from the governments and private sector IT leaders from 15 countries (Bhutan, Estonia, Malaysia, Philippines, Spain, Singapore etc) as well as institutions like the World Bank and Interpol who shared an interest in the dilemmas, challenges and potential solutions to the challenges of new technologies.
Digital disruption and the collective quest to find answers to its challenges was the theme of the event. From emerging technologies that threaten to challenge views of what the future will look like, to urgent questions of how much technology should be allowed to make inroads into social and private spheres, we are witnessing an era where disruptive forces are re-shaping everything. The digital tsunami is expected to affect everyone in its path – from governments and businesses, to communities and individuals.
Measures to deal with the challenges of such disruption and turn them into opportunities for businesses is one of the key concerns of business leaders today. It was in this context that the speakers at ConnectGov sowed ideas and raised questions that are likely to provoke and engage our CIO community for some time to come.
BHUTAN, 2016


With it's inauguration held in Bhutan, ConnectGov Leader Summit 2016 gathered more than 100 C-suite executives and directors of government agencies from 15 countries, around a discussion theme – "Leading in a disruptive world". Conducted over an intensive 2-day forum and held against the breathtaking backdrop of Bhutan, CIOs gained insights into the trends of digital disruption, engaging with the fast growing numbers of "always-on" users, and building trust with your CEO when creating innovative solutions in the world of disruption. A panel of 30 speakers challenged CIOs to think out-of-the-box in dealing with disruption throughout the programme, with many leaving the summit with actionable learning outcomes.
This annual Summit offers a platform for thought leaders, leading industry players and senior government officials to share their success stories and insights. Be prepared to ask tough questions and take away actionable strategies.
0
%
Above 8/10 Satisfaction
0
%
C-Suite Audience Profile
OUR PARTNERS