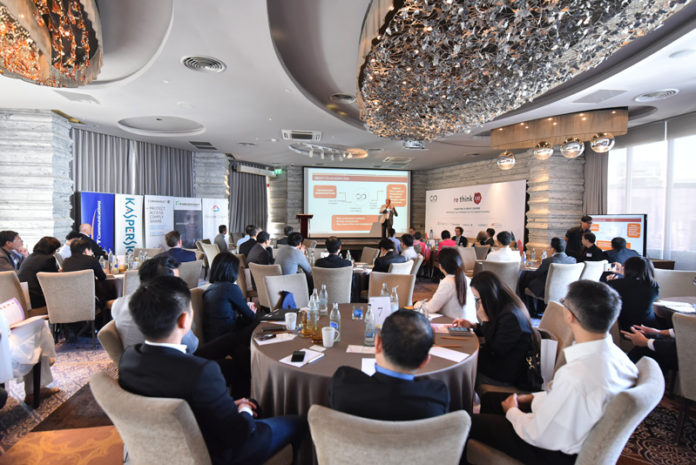 Charting a New Course – Rethinking your Strategies for the Digital Economy
---
– 20 March 2018
Organised by CIO Academy Asia (CIOAA)

The conference started with P. Ramakrishna (Rama for short), Deputy CEO, CIO Academy Asia, welcoming all the delegates to the forum. He set the scope of the conference in his welcome address: it was to be all about re-thinking for CIOs, and rethinking strategies for the digital economies.
Adapt to Change
Glen Francis, CEO of CIOAA, named and thanked all the sponsors of the conference. He also announced that CIOAA had signed an MoU with the Cloud Security Alliance (CSA, Thailand Chapter). The MoU will pave the way for further collaborations in the cloud and cybersecurity areas between CIOAA and CSA in the near future.
Glen shared three key observations with the CIOs which sprang from a recent experiential tour of Singapore for the delegates from the Asian Development Bank.
It's not about being innovative, but it is about learning other people's recipes and adapting it to your
Benchmark yourself against the greyhounds, avoid trying to be the fastest turtle!
How should we define our roles in this current Digital Age to help our organization succeed (and hence we help ourselves succeed too).
Rama shared some details about CIO Academy purpose as a tech though leader and CIO community builder. This was followed by a presentation by CLAY MILLER, Senior Executive Advisor, CIO Academy Asia, He said that we are all living in the VUCA world (Volatility,  Uncertainty, Complexity, and Ambiguity). At the same time, we are going through the Fourth Industrial Revolution, where a lot is happening in physical, digital and biological worlds. He went on to say that key disruptive technologies are now being re-branded as 'superpowers' since they can influence economic and societal outcomes!
He mentioned three key factors: People, Process and Technology. "You can't do anything without the other," he said. "Digital transformation gives you an opportunity to rethink about your strategies". His take away mantra to stay relevant was: If it is broken, fix it; if it is not broken, break it. But don't leave things as they are.
Chart the Digital Journey and Thrive within the Digital Ecosystem
After Miller, the delegates heard from DR. SAK SEGKHOONTHOD, President & CEO, Electronic Government Agency (EGA).
Dr. Sak started off with a very important announcement in the context  of his Thai government agency, EGA: In a few weeks, we are going to be Digital Government Agency (DGA) instead of EGA, he said. DGA  will be under the Prime Minister's Office in Thailand, just like the UK, Australia and Singapore.
The Thai government had taken this step because the belief now is that "If you want to move the country, you have to start right from the top," he said.
It is not just a name change for a government agency, he added. It comes with other mandate too.
Further, he shared his observations about the digital landscape in Thailand. The Thai government has realized that like businesses, the government needs to be disruptive too. Why? Because of expectations.
Thai people have changed a lot and so have their expectations. He gave his grandmother's example. Even his grandmother, who is 80, has gone digital now. She uses mobile technology to connect with her grandsons.
He shared how he told the Prime Minister of Thailand that he needed to disrupt the government. Soon after, it was announced that in the next six months, Thai people will no longer have to submit copies of their documents to government officials. Thai people have found it challenging for many years because of such paper-based bureaucratic requirements, even though they have the ID card with an electronic chip.
However, we are going to have a new form of digital divide, he cautioned. "My digital and your digital may not talk to each other," he said. He outlined the top three priorities for the government: Security, Artificial Intelligence (AI) and People.
"Security is still is the biggest threat," he said. "I am talking about digital security because  everything is digitized. One has to be prepared." He gave the example of Singapore where government systems have been delinked from the Internet, Thailand is studying this approach closely!.
In the context of AI, he talked about AGI – Artificial General Intelligence. "It is coming fast (data lake, cryptocurrency, blockchain), and it is more powerful than AI."
But his biggest worry is about lack of skilled digital talent. "But do we have enough skilled people? To go from database to data lake is not a natural step. It's a leapfrog." But Thailand does not seem to have the skilled talent pool, he said. He also expressed his concern about the mindset of the people within the government ranks. They need to change the mindset. They have to believe in digital transformation, he said.
Driving Business Agility through Enterprise Transformation
GREGOR HOHPE, Technical Director, Office of the CTO, Google, made a stellar presentation on driving business agility in digital age through technology platforms.
To contextualize the need for agility in this age, he started off with Learning cycles (Build, measure, learn cycle) and the rules of economy of scale and rules of the economy of speed and how the two are opposed to each other.
"IT is a differentiator, not a commodity anymore," he said. Since all disruptions are IT driven today, businesses have to build their IT systems on the shoulders of giants because this is the age of platforms.
"But we should not forget to look in the rear view mirror," he said. He gave the example of the US automotive industry which was disrupted by the Japanese automotive story. The lesson was that you stop making each car from scratch.
The same goes for businesses. Platforms are crucial for businesses because they help drive down the cost of experimentation. Platforms, together with Open source technology and cybersecurity tools and mechanisms make a strong proposition for businesses.
Extolling the virtues of Open Source, he said that Google is a key driver of open source.
Platforms and clouds are often questioned on account of cybersecurity. Cybersecurity is important, he said and it starts right from the supply chain. "Trust but check"-that's Google's motto.
Cloud is more secure than on-premise, he said. "Earlier, people felt safe keeping their data on- premise. But the scenario has changed. That (using platforms) is the only way you can operate with speed and innovate." According to him, unlike the virtual machines, Cloud is  a disruption,  like the new car sharing model, where you can pick up your car from anywhere and leave it anywhere.
He offered two key points to CIOs about adopting cloud platforms:
Platforms offer you much more than infrastructure. They minimize the friction between your idea and getting it live as quickly as
When you adopt cloud, what problem are you trying to solve? Reduce cost? Increase uptime? Get more flexibility? Get deeper insights? Strategy is all about what you are not doing. Set your priorities and that will help you choose (your platform) Make your roadmap. You will know where to head for the tools that you need.
"Cloud is really about eliminating the economies of scale and at the same time, it is enabling the economies of speed," he said.
Gregor also touched upon the uses of Machine Learning (ML) and analytics. "ML is the natural thing that gives us human-computer interface", he said. Similarly, without analytics you can't do build, measure and learn cycle," he said.
He urged the CIOs to take action. "There is a lot of difference between knowing the path and walking the path," he said. "You need to walk the path. Transformation is difficult because the existing system is self-reinforcing. The system is change-resistant. You need to stop it and make it spin in the other direction. That is the most important thing you need to do."
He advised the CIOs to revisit these old beliefs and change them. "Revise the old and outdated IT beliefs," he advised. "Change is risk. But more dangerously, you have come to assume that no change is no risk. Cyber exploits come from no-change. The risk of no change could be the risk of no longer doing business. Ask Kodak, Borders and Blockbuster!"
Answering a question, he said that Bimodal can help you during the transition but it can't be your general state. "Being fast makes your more secure and more quality." He doesn't like this adage: quick and dirty. "It doesn't have to be. It could be quick and high quality," he quipped.
Digital Economy Ecosystems at Work
The first panel discussion of the day was on how the Digital Economy ecosystem is fast-evolving and presenting potential opportunities and challenges for digital leaders. The session was moderated by CLAY MILLER.
According to CHANANYARAK PHETCHARAT – CEO, DHL, Thailand and Indochina, Big data has really driven growth in her logistics company. There are 7.5 billion people around the world and more than 50% people are mobile phone users, she said. "In Thailand, people are active on social media. Customer behaviour is changing and business as usual is no longer true for us," she said. "We focus on our core competency," she added. " The B to C burst is coming in. We need to build a connection between people and product."
She said that her company uses Technology insights to figure out what they should do in terms of adopting new technology. Customer insights is used to find out how they (customers) want to interface with them. Data enablement helps them analyze the data to do continuous improvement. Lastly, Digital mindsets and cultures matter too. "We are not perfect but we are quite good in our journey," she shared.
During the discussion, DR. ANNIE KOH, Vice President, Office of Business Development, Singapore Management University and Board Member, Government Technology Agency of Singapore (GovTech), talked about the 3 Ps. "What is the Purpose of having a digital work system?" she asked. "Purpose is linked with People, your customers. It has to be purpose-driven and it should be about people."
Another important 'P' is Platform, she added. In the context of Government, she referred to Moments of life. When a baby is born, what are the needs that the government can fulfil? What childcare services will the parent need? Such needs can be fulfilled by smart platforms.
CIOs in the Age of Data Dichotomy
MATTHEW JOHNSTON – Area Vice President, ASEAN & Korea, Commvault, made a presentation on the Data Dichotomy – the newest challenge for CIOs.
He talked about data complexity that hinders compliance and increases risk. Data is everywhere but it is spread across data centers, legacy systems, cloud and SaaS. It leads to many pain points for CIOs–lack of control and insights, inconsistent backup and recovery and data migration challenges.
The new reality, according to him, is an Advanced Data Management Platform. This kind of a platform solves all the pain points of CIOs.
His recommended the following approach to CIOs to solve the problem of data dichotomy:
Robust data management – know your data
Unified cloud protection- move and backup your data
Control external data – manage your SaaS and endpoint devices
After his talk, Matthew then join a panel discussion on new leadership challenges, together with BOONSON JENCHAIMAHAKOON, First Senior Executive Vice President (Information Technology Group), The Government Savings Bank; and SUPPARAT SIVAPETCHRANAT SINGHARA NA AYUTTHAYA, General Manager and CTO, True IDC. The discussion was moderated by DR. ANNIE KOH.
Some of the key takeaways of this panel discussion was:
Design thinking and empathy are required to define and tackle the right problems and be strategic leaders
The key thing for a CIO/CTO is timing. The market is moving very fast. Management is key and architect capability is key. We should be able to sense and respond in
Choosing the right partner is important. You have to know what technology you want and who you should partner No one can just rely on themselves for all the solutions!
reThink Digital Strategy 
The post lunch sessions of the conference started with a panel discussion on the theme, reThink Digital Strategy. The panel comprised VORANUCH DEJAKAISAYA, Chief Information and Operations Officer, Bank of Ayudhya; TED SUEN, President, Hong Kong Computer Society / Head of IT, MTR Corporation Limited; ASHISH OLIVER, IT Strategy Department, Toyota Manufacturing and Engineering Thailand; and DR. NANTAWAN WONGKACHONKITTI, CIO, The Student Loan Fund; and Secretary, Cloud Security Alliance (CSA), Thailand Chapter.
Moderated by Clay Miller, the panel tried to explore how tech leaders are playing an important  role in deploying digital tools, driving efficiency and increasing business gains by establishing programmes which create business value and competitive advantage.
While Voranuch shared about how banks in Thailand were struggling with challenging bureaucratic processes which served as barriers in driving the digital transformation agenda, Ted showcased how MTR in Hong Kong was making strides in digital innovation across geographies, from Hong Kong to Sweden, China, and London. It's 99.9% performance rate has set global benchmarks for the rail transport industry.
MTR has not only diversified in geography but also in businesses. Ted spoke about working smart both internally and externally to enable digital transformation in such a fast-moving organization.
Ashish of Toyota said that even though his company is a leader in quality manufacturing but is under pressure to transform, like all other companies in the automotive sector.
Now mobility is a service – you take cars (Uber, Lyft or Grab) to go to office or drop your kids, said Ashish. You don't worry about the make or the model of the car.
Dr. Nantawan shared the existing scenario at her organization, which specialises in student loans. She shared that there is pressure on her organization to become like a bank, and ensure that there are less defaults.
She also shared that her organization has rich data on students (data on about 5 million students) and people want that data. She plans to have a mobile app but more importantly she thinks that having a digital direction is necessary for her organization.
A CIO's Digital Transformation Journey
One of the most awaited talks in the afternoon was by Ted Suen, President, Hong Kong Computer Society / Head of IT, MTR Corporation Limited.
Ted said that MTR is a complicated organization with lost of procedures and processes and yet it had made great progress innovating and staying ahead of the curve in digital transformation.
He talked about Digital Transformation 1.0 and the Accelerated Digital Journey ahead.
While the Digital Transformation 1.0 era saw the flourishing of mobile apps, the journey ahead is much more challenging as newer technologies keep emerging. Businesses need to understand the new technologies and apply them to create value for themselves, he said.
"We don't hear  about  3D printing technology. It's part of our life now, like mobility," he said. Rather, wow we hear about AI, ML, IoT, AR, MR and blockchains, as the emerging technologies, he added.
He emphasized on developing digital business capabilities, fostering innovation and skilling the workforce for businesses to deal with the challenge of digital disruption.
"You have to move IT spending from keeping the lights on to innovation," he advised. "Equip your team with all the necessary skills from design thinking to Devops."
Some of his advice especially to CIOs included:
You must bring innovation to your organization
Do internal crowdsourcing and hackathons with external people
You must have a good architecture in place
Grow your people. Give them opportunity. Promote staff engagement.
reThink Cybersecurity & Risk
"Organizations should block the people who show suspicious behaviour," said CHATKUL SOPANANGKUL, Country Sales Manager, Thailand, Forcepoint, in his keynote. He spoke about human-centric and behaviour-centric cybersecurity as humans are the weakest link for security breaches. It's people who make mistakes and 81% of hacking-related breaches exploited compromise credentials, he said.
After his presentation, the topic was handled by a panel of experts consisting of DR. ROM HIRANPRUK, Senior Advisor, Thailand Information Security Association (TISA); SURACHAI CHATCHALERMPUN, Chief Information Security Officer, Krungthai Bank; and BRANDON TAN, Principal Security Consultant & Office of the CISO, South East Asia, Forcepoint. DR. NANTAWAN WONGKACHONKITTI, CIO, The Student Loan Fund; and Secretary, Cloud Security Alliance (CSA), Thailand Chapter, moderated the discussion.
According to Dr. Rom, resiliency is a priority for the regulators in Thailand. Regulation is an issue, but it needs to be understood, he said. Citing the data theft or misuse of data by companies like Cambridge Analytica, he asked what regulations they were breaking? Because data brokers work in various jurisdictions and regulations are not up to date yet to control them, he argued.
Agreeing to this Dr. Nantawan said that cyber hygiene is important but only 33% global organizations prepare for cyber attacks. That's a very low number, she added. It's a matter of worry for digital leaders.
Talking with reference to public sector banks in Thailand, Surachai said that KTB is a public bank  so it is classified as a critical infrastructure. "If we got hacked, how we respond and recover with business continuity is critical for us. So we need to hack ourselves (before others could hack us) and need to collaborate with others in the banking sector," he opined. However, the challenge is having the trust in sharing information with other organizations, he said.
Technology: Shaping the Future of the Logistics Landscape
In his presentation, SAM LOKE, Managing Director, Pan Asia Logistics (Thailand). tracked the past evolution of the logistics industry from the time of industrial revolution to our digital age. He talked about the impact of new technologies such as 3D printing and blockchain on the logistics sector. "Digital transformation is making the industry more service centric," he said. "New technologies are revolutionizing production, decentralising final assembly, improving data tracking and sharing, and reduces errors and frauds, among others."
The last activity of the conference were Breakout Roundtable Discussions on various topics, facilitated by CIO Academy Asia and technology experts from partner organizations: Google Cloud, Forcepoint, Commvault, Kaspersky Lab, and NTT Communications (Thailand). The conference ended on a high note  with a lucky draw and networking cocktails.
---
To view the original details of this event, please visit here.
To view PDF version of this post event report, please visit here.
For more info on the next reThink CIO series event, please email us at contactus@cioacademyasia.org