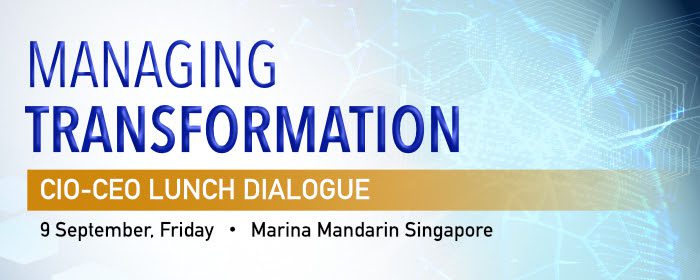 "More people will have mobile phones (5.4B) than electricity (5.3B), running water (3.5B) and cars (2.8B) by 2020."
Digital disruption is a top-of-mind issue in the C-suites of every industry. What does your business need to do today to compete for tomorrow? Digital transformation is now a competitive necessity touching every element of your business from the data centre to your end-users, it is not just about the present but also about the future.
With integrated solutions like advanced M2M technologies and IOT capabilities, the customer experience is improving exponentially as our everyday environment becomes smarter. How do CIOs leverage such technologies to unravel new ways to engage customers, enable enterprises to penetrate new market segments and improve productivity within organisations?
CIOs now face more challenges and opportunities at the same time. From planning and implementing the entire transformation process, CIOs face tremendous pressure as they strive to stay on the winning side of disruptive technologies amidst a tight budget.
Join us at this exclusive lunch dialogue as we hear from our distinguished CIO-CEO panel exchange unique perspectives, leading digital transformation in their functional roles. Hear from Sreeram as he shares his set of concerns and challenges in supporting the CIO's vision for digital transformation. find out how the CIO can improve his relationship with his/her CEO and gain the support he/she needs for digital transformation.

Sreeram Iyer
Chief Operating Officer of Institutional Banking and Asia Retail, ANZ Bank
Former Chief Executive Officer & Group Head of Scope International Pte. Ltd.
Mr. Iyer is responsible for supporting ANZ's business strategies across several countries; generating value for customers through Technology and by driving Operations in all the regions of its business. His focus is in Institutional Banking regionally and in the Asian Retail Banking businesses. He has more than 25 years of experience, including 18 years, in diverse functions across different disciplines and geographies. Mr. Iyer served as the Chief Executive Officer and Group Head of Global Shared Services Centres of Scope International Pte. Ltd. He served as the Global Programme Director for the integration of the erstwhile American Express Bank's consumer banking business with Standard Chartered. He was a key Member of the Leadership Team of Standard Chartered Bank in India. He served as the Chairman of Standard Chartered Investments & Loans (India) Ltd. He is a Chartered Financial Analyst, Company Secretary and a qualified Cost and Management Accountant. Mr. Iyer has an MBA from the UK.

Damian Fazackerley
CIO APMEA and Global Head of Infrastructure Services, Havi Logistics
Damian is an extensively experienced CIO with 30 years Supply Chain, Supply Chain Services, Manufacturing and Travel Services experience in global organisations. Damian is an expert practitioner in building and delivering globalized IT solutions and services, as well as managing c-level stakeholders and drive major programmes with real commercial acumen.

P. Ramakrishna
Deputy CEO, CIO Academy Asia
Rama has been involved with the ICT domain for the public sector for more than 30 years from 1983-2014. He joined Infocomm Development Authority (IDA) in 1999, his last held position was Director of IDA's Industry Development Division. Prior to IDA, Rama worked in the Ministry of Defence for 16 years.
Special Guest: Mr. Tetsuya Shoji
President and CEO, NTT Communications Corporation (NTT Com)
Boasting almost 40 years of experience in the telecommunications industry, Mr. Shoji began his career at Nippon Telegraph and Telephone Public Corporation before joining NTT Corporation, the parent of NTT Com, where he held the positions of Senior Vice President, Director of the General Affairs Department and Director of the Internal Control Office from June 2009. Mr. Shoji last held the appointment of Senior Executive Vice President, holding responsibilities for for group sales and corporate management from June 2012.
Event Details
Venue: Marina Mandarin (Pisces & Aquarius Room)
Address: 6 Raffles Boulevard, Marina Square, Singapore 039594
Date: 9 September 2016, Friday
Time: 12.30PM – 2.30PM
In Partnership with NTT Communications