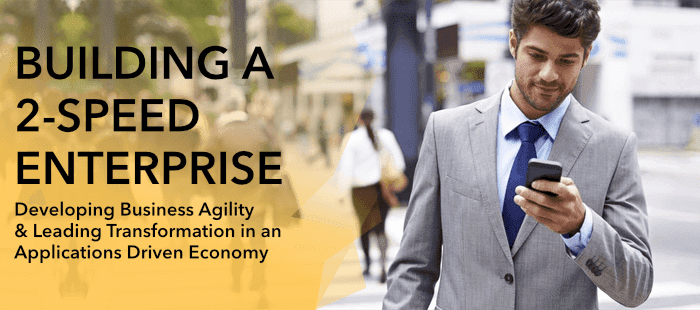 Transform your IT organisation to drive business value creation
The world today has never been more connected, a world whereby it's citizens interact with each other predominantly through their mobile devices. Access of information on a mobile device is no longer a bonus function, but a necessity, and it's past due that businesses move together with its customers.
Companies now are beginning to shift toward a 2 speed architecture, where front-end functions like sales and marketing get real time data updates on a user-friendly dashboard that works on mobile but at the same time, maintains the stability and cost efficiency of the back-end office. A 2 speed enterprise is one that is agile, responsive and profitable. However, driving change at an organisation wide level, involves a complex web of stakeholders and existing infrastructure, posing it's fair share of challenges. How would one navigate the challenges of transition and define clear performance indicators on a realistic roadmap?
An insightful cross-functional panel discussion, where Candice Poh (CIO, Consumer SG & IG, Singtel) will share about her current experience leading Singtel through toward a sustainable 2 speed enterprise. Acclaimed CEO and CFO, Lynette Seah will also share her experience prioritising enterprise level goals, providing insight into the mind of a CEO and how the CIO should be positioned beyond the traditional business support role, but to take the role of being a key driver in business innovation.

Candice Poh
CIO, Consumer SG & IG, Singtel
Candice Poh is the current CIO of Consumer Singapore and International Group and the Regional Head of Group IT Governance, Planning, Enterprise Architecture and Service Excellence in Singtel. Partnering business stakeholders to understand, shape and prioritise demand for IT solutions and services, Candice has enabled business growth and innovation with better management of IT capital investment, and transformed Group IT culture and mind-set to deliver service excellence.

Lynette Seah
CEO, Alpha7
Lynette Seah is the Founder and CEO of Alpha7, a Singapore-based technology start up providing advisory & solution services to businesses seeking to transform their operations with digital and disruptive technology in Singapore and Asia. She brings over 28 years of experience in finance, operations, business and project management. Lynette's expertise lies in helping businesses leverage technology to improve productivity, increase customer reach and improve bottom lines, by balancing people, processes and technology with Priorities, constraints & budgets.
Prior to setting up Alpha7 in 2014, Lynette served as Vice President of Finance and Strategy and member of the APAC management team at Salesforce.com for eight years. Salesforce is the fastest growing enterprise cloud company globally. Lynette has also held senior management roles at PWC, JD Edwards and Interwoven.
Event Details
Venue: Indocafe The White House
Address: 35 Scotts Road, Singapore 228227
Date: 3 May 2016, Tuesday
Time: 4PM to 6PM