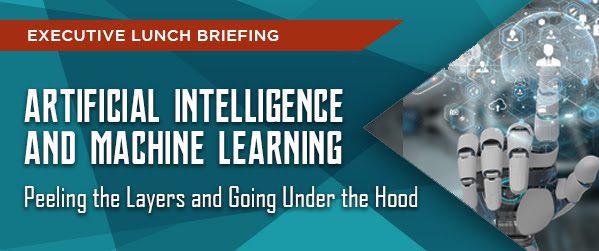 Customers of today demand hyper-personalisation and business managers demand insights at an unprecedented level of granularity. Market leaders will be defined by their ability to make accurate decisions and deliver tailored customer experiences at speed and scale.
Artificial Intelligence (AI) and Machine Learning (ML) together not only offer tremendous potential for organisations to uncover rich data insights but also a means to automate data management from disparate sources, perform complex decision-making and improve the accuracy of recommendations through self-learning algorithms.
Join us as we hear from senior technology practitioners and AI experts to discuss the best practices, case studies and emerging technology toolkits to help you build a sustainable AI-driven organisation. At this session, you will learn:
The importance of framing a business problem and employing a holistic strategy before embarking on any AI-related project.
The technology toolkits required to help you manage the relevant data and realise positive business outcomes from applying AI.
Best practices and use-cases in implementing AI & ML capabilities and tips on how to tackle some of the common challenges.
National-level collaborative efforts made available to help organisations develop capabilities in AI & ML technologies in Singapore.

JAMES KANG
CEO & Founder, Amaris.ai
(Former Singapore GCIO)

DHANA DAMODARAM
Chief Technology Officer, APAC/EMEA Global Consumer Bank, Citi

WILSON ANG
Director, Intelligent Computing Lab,
IMDA Singapore

CHRISTOPH THEISINGER
Vice President, Enterprise Presales, APJ
Dell EMC
Event Details
Venue : Four Seasons Hotel Singapore
Date : 1 November 2018, Thursday
Time: 11.30pm – 2.00pm
In Partnership with DellEMC