Hosted and Supported by

E=Mbracing Cognitive Capabilities
E=MC2
ConnectGov Leaders Summit is the marquee event where discerning thought-leaders, government and private sector CIOs, CISOs, business leaders and corporate tech experts gather to learn, establish new personal connections, and exchange fresh perspectives. Our objective is to deliver quality and highly-interactive engagements on key current topics and leading-edge tech issues, so that participants may expect not only actionable insights and but also opportunities to establish new contacts with peers from around the world.
The Summit will gather tech practitioners and the best minds within our community to actively engage and collaborate towards driving some of the key ideas and initiatives on government and industry transformation. By enabling these conversations, we hope to provide delegates with a basis for establishing greater understanding along with tangible action plans to help navigate challenges in this Digital Age.
ESTONIA : Where old world charm melds perfectly with brave new advances of the digital frontier
ConnectGov Leaders Summit 2018 will take us to Estonia, a country named 'the most advanced digital society in the world' by Wired in 2016 and where delegates will re-energise their thinking and make new meaningful connections.
The capital Tallinn with its extraordinary Old Town is the birthplace of many digital innovations – a place that aptly captures the spirit of our Summit which is all about empowering digital leaders in bringing their organisations to greater heights in the age of disruption.
With strong support from Estonia's Government CIO Office and the Ministry of Economic Affairs and Communications, ConnectGov Leaders Summit 2018 promises to be bigger and better than ever!
What's new in 2018?
Stronger delegate participation from around Asia
More peer-to-peer exchanges on challenges and best-practices
More networking opportunities with specially-planned social activities

Experiential learning and visits to tech reference sites
Our host country is represented by:
SIIM SIKKUT
CIO, Country of Estonia

Siim Sikkut is the Government CIO of Estonia and Deputy Secretary General for IT and Telecom in Ministry of Economic Affairs and Communications. His role is to set strategies and policies, launch and steer strategic initiatives for the development of digital government and society in Estonia. Siim is one of the founders of Estonia's ground-breaking eResidency programme.  Join us to hear more from Siim on Estonia's journey toward becoming a digital society at the Summit!
Day 0
Sunday, 29 July | Arrive in Tallinn
Arrive at Tallinn Airport
Transfer to Hotel
Free & Easy
Day 1
Monday, 30 July | Tallinn/ Countryside
Summit Programme – Day 1 (Full day)
Welcome Dinner
Day 2
Tuesday, 31 July | Tallinn
Summit Programme – Day 2 (3/4 day)
Learning visits to government technology facility / innovation labs
Day 3
Wednesday, 1 August | Depart from Tallinn
Farewell breakfast
Extended R&R programme (tbc)
Transfer to Airport
Overall Programme and activities are subject to further update as the event draws nearer. Conference programme will be shared in due course.
Day 1
Monday, 30 July | Sharing Cognitive use cases and insights from public/private sectors
*Topics to be discussed
Introduction
Readying for Disruption 2.0
Achieving Digital Transformation Exponential Gains – Is Cognitive the answer?
Implications for Leadership in the Cognitive Era
New Partnerships Paradigms for the Cognitive Age
Solving the Talent and Capability Equation, in reference to the event theme E=MC2
New Rules for Managing Change
Day 2
Tuesday, 31 July | Setting the stage for the Cognitive Age
Shaping Up for the Data-Driven Economy
Shaping Strategic Priorities in a Complex Landscape
Navigating New Uncertainties in Risk and Security
Upping the Game with Cognitive Capabilities in Smart Cities
Panel Discussion with country heads overseeing Smart City developments
Perspectives from Estonian Industry Leaders
Overall Programme and activities are subject to further update as the event draws nearer. Conference programme will be shared in due course.
Set in the heart of Estonia's capital city, Hilton Tallinn Park is located on the eastern side of quiet and recently renovated Politseiaed Park. This Tallinn hotel also provides convenient access to Tallinn Airport within ten minutes' drive. Take in wonderful views of Tallinn Harbour and the enchanting Old Town from the hotel, and enjoy walking proximity to Medieval Old Town with its shops, restaurants and popular Tallinn attractions, as well as many businesses and corporate offices in the area.
http://www3.hilton.com/en/hotels/estonia/hilton-tallinn-park-TLLHIHI/index.html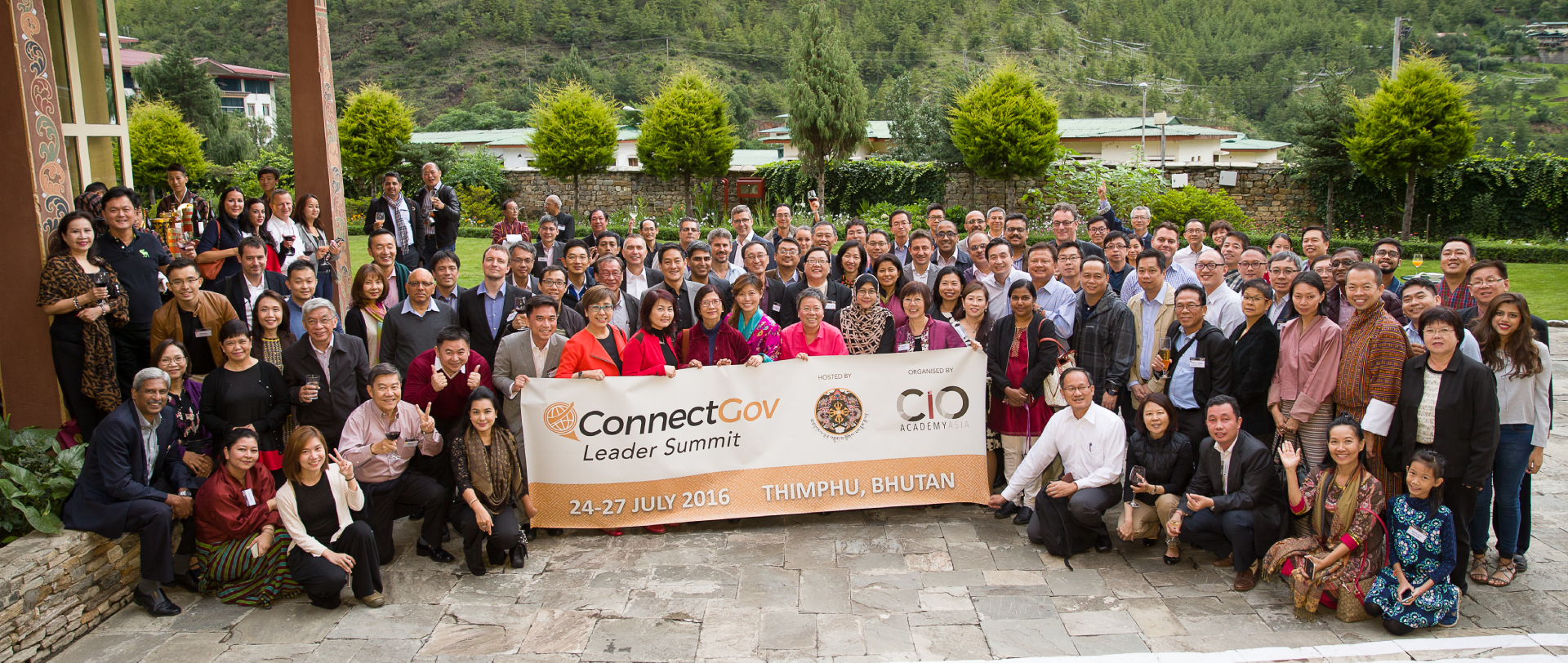 ConnectGov Leader Summit, Bhutan 24-27 July 2016
2016 EVENT PARTNERS
"It was a well-organised conference with a lot of learning and camaraderie. Congrats on a successful event." – Chief Executive, GovTech
"The ConnectGov event in Bhutan, organised by CIO Academy Asia, was one of the best meeting-of-the-minds I have had the pleasure of speaking at. The location was superb, the dialogs were enlightening and the organization was perfect. Well done!" –Futurist, Author and CEO, The Futures Agency
"It's the best CIO offsite event I have ever attended so far: meeting the experts, learning ideas from the peers and wonderful locations." – CIO & Co-owner, Hong Kong Broadband Network
"A big thanks to the CIOAA team for an extremely well organised event. It was wonderful to interact with a diverse group of highly knowledgeable professionals." – Adviser Digital Strategy & Government Analytics, World Bank
"The event is wonderfully organised and offered good opportunities for connecting and sharing ideas. Very well executed. Thank you for putting in such great thoughts and effort in making this a successful and special event." – Country Manager, Singapore & Thailand, Red Hat Asia Pacific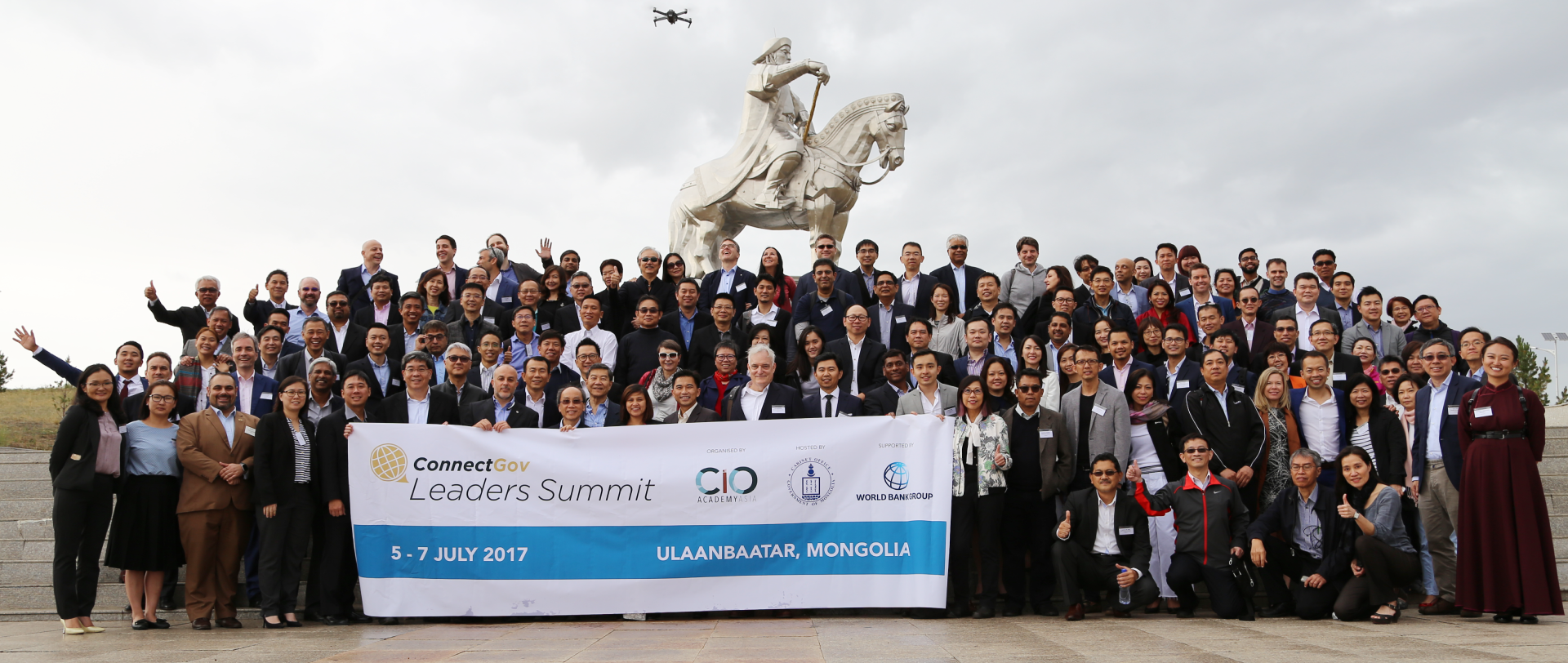 ConnectGov Leader Summit, Mongolia 5 – 7 July 2017
2017 EVENT PARTNERS
"This is by far one of the most informative, insightful and inspiring event in the IT space and a highly effective networking platform as well." – CIO & COO,China CITIC Bank International
"A great and well-organised event. Great panellists and great subjects shared by people from diverse walks of life, technology and experience." – Senior Executive Officer & CIO, Coca Cola East Japan
"This is one of the best technology business conferences that we've had in APAC. It's a great collaboration and we got to know each other on a human level, understand some of the challenges they are facing, and also identify opportunities for partnership. It's also great to "getaway" and experience the countryside and get to know new contacts on a one on-one basis." – Managing Director of Asia Pacific & Japan, Google Cloud
"(The event) has been extremely rewarding – not just in terms of the high-calibre people I've met but also the content that was delivered, the opportunity to share and participate in a collegial way – that, for me, has been the biggest take-away. There is real openness at the C-level to collaborate between institutions that was evident over the course of the event. I am really looking forward to the next Summit." – CTO, APJ, Symantec