OUR MISSION

CIO Academy Asia helps leaders succeed in a fast changing world driven by technology advancements.   We create platforms where CIOs, business leaders and thought leaders share their insights, knowledge and expertise with the wider community of IT professionals and management executives in business, government and community organisations.  We work with the IT and business community to raise professional standards and capabilities in the innovative use of technology to solve complex issues and challenges.  We help CIOs to stay ahead  of the industry, socio-economic trends and evolving technology landscape, providing new and practical knowledge where they can navigate the way forward for their organisations and
also for their own personal growth.
OUR TEAM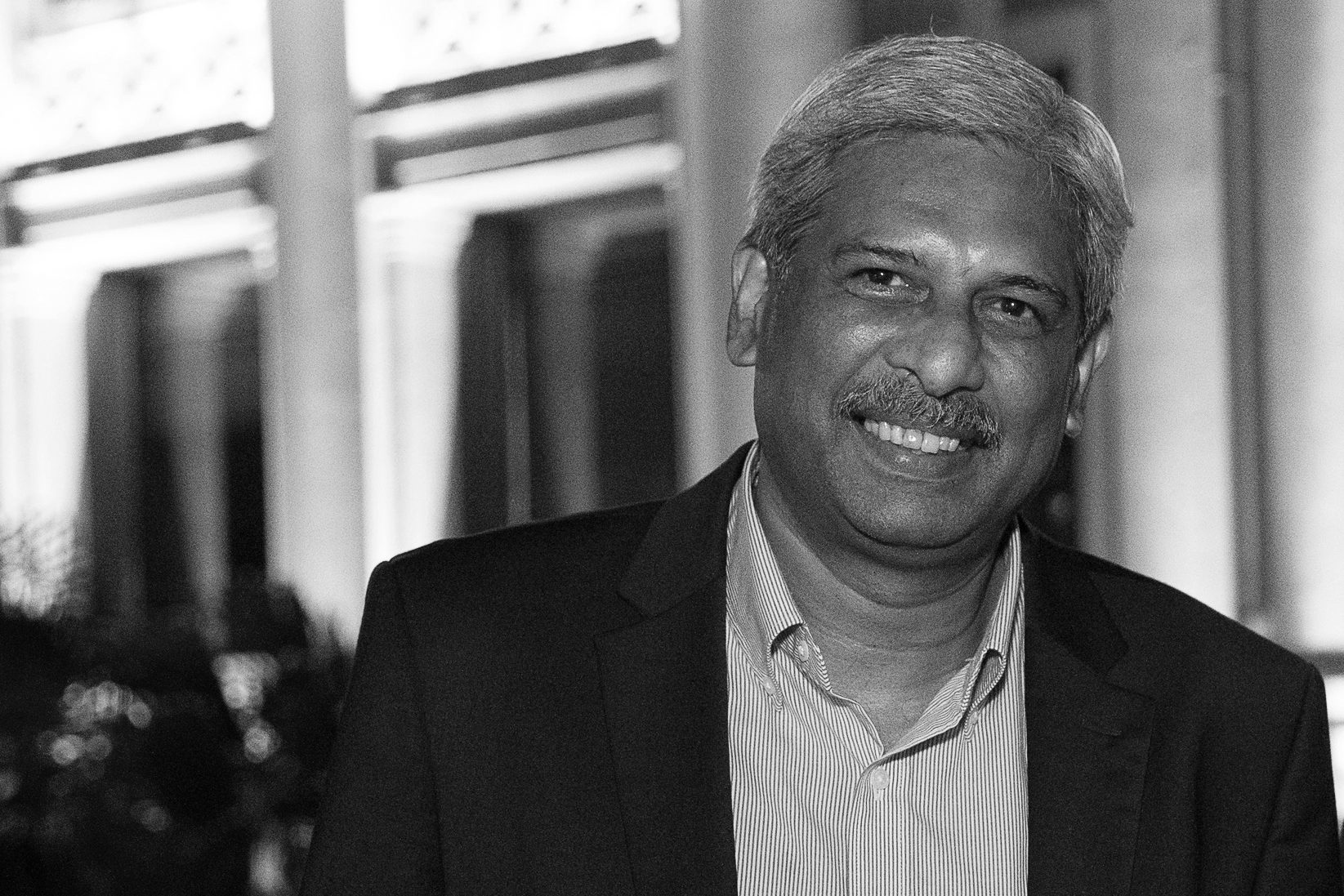 P. Ramakrishna (Rama) has been involved with the tech domain for the last 35 years.
Rama was formerly with Singapore's Infocomm Development Authority (now IMDA and GovTech), his last held position was Director of IDA's Industry Development, responsible for national level initiatives to develop the tech industry ecosystem. He left in 2015 and became an advisor for several foreign countries to help develop their national tech masterplans.
In 2016 Rama joined CIO Academy Asia and is currently the CEO. CIO Academy builds CIO communities, sharing tech best practices and insights for C-level executives.
Rama is also the co-author of the recently published 'Intelligent Island: The Untold Story of Singapore's Tech Journey' which chronicles the development of Singapore's tech industry over the last 3 decades.
The CIO Academy Asia Team comprises of experienced practitioners with diverse backgrounds in academia, event management and digital marketing. The team also believes in working with the younger millennials to tap their creative expertise and perspectives. We work hard and play hard.
OUR ADVISORS

Mr William Liu or Bill as he is known, currently serves as the Chairman and Managing Partner of Stream Global Pte Ltd, a venture catalyst in the ICT and IDM space. From 2001 to 2006 he was President of Green Dot Capital Pte Ltd, a Temasek owned company, which invested in start-up and early stage companies, globally. It was also the holding company of Singapore Computer Systems Ltd and SNP Corporation Ltd, both were listed on the Singapore Stock Exchange.
Prior to joining Green Dot Capital, Mr Liu was from 1993 to 2001, the President & CEO of ABACUS International, Asia's premier Global Distribution Systems (GDS) and Computer Reservations Systems (CRS) company and a joint venture company with Sabre, Inc of USA. Bill was responsible for its operations and profitable growth that spanned 20 countries in the Asia Pacific.
Prior to joining ABACUS, Mr Liu was International Computers Ltd's (ICL) Vice President for Asia and concurrently the non-executive Chairman of the Singapore operations. He also served as General Manager of ICL Taiwan for a year in 1992
Chief Information and Operations Officer, CITIC Bank International In his current role, Michael Leung manages the Bank's information technology and operations towards enhancing service quality and operational efficiency, and at the same time serves as a key member of the Bank's Management Committee looking after a wide range of functions. Previously, Mr Leung was Deputy Chief Executive and Chief Information Officer of China Construction Bank (Asia). After obtaining his Master's degree from Holland, Mr Leung joined the Dutch Philips Company in Europe, Asia and Australia. Michael is a Fellow and President of the HK Computer Society, Vice Chair of the CIO Board, a Fellow of the HK Institute of Directors, Chair of the IS Departmental Advisory Committee of CityU, Vice Chair of the HK Down Syndrome Association and head of its Finance Committee, amongst other achievements.
Mahendran is the former Vice President & Chief Information Officer of ABB Singapore. Working with the Executive team, Mahendran provide technical leadership, vision and experience.
During his 21 years tenure, he has held various IT roles in governance, regional sourcing and operations management including as Asia Pacific Data Center Manager, which provided core infrastructure & application services to the operating entities in the region.
Mahendran had also served as the Head of Supply Chain & Real Estate. As Head of Supply Chain, he was responsible for managing the supply chain teams and responsible for all business procurement and related activities. As the Head of Real Estate, he supported business activities, by maximising usage of the company's real estate and assets, aligning real estate goals to the business footprint needs.
Mahendran has led various functions and teams in carrying out activities which supports company strategy, meet performance objectives and customer expectations.
Lim Kuo Siong is currently the Chief Information Officer at Maybank Singapore. Prior to that, he assumed different positions as Head of IT, Head of Central Operations and Head of eBusiness. In his tenure as Head IT and eBusiness, he established various strategic partnerships to expand bank's network and the customer reach, transformed the enterprise data centre for future growth, and successfully launched several Digital Apps and garnered various prestigious awards in the industry.
Overall, Kuo Siong has more than 25 years of experience in Leadership and IT Management positions in regional Banks including UBS, Standard Chartered Bank, United Overseas Bank and Maybank.
Grace Chng is a veteran tech writer and observer based in Singapore. She has wide experience setting up and managing editorial teams in Singapore and in the Asia-Pacific. She has interviewed the world's leading tech CEOs including the late Steve Jobs, Microsoft's co-founder Bill Gates, AirBnB's co-founder Nathan Blecharczyk, Strike's co-founder John Collison, Catcha Group chairman Patrick Grove and Lazada's CEO Maximilian Bittner.
Grace has layered on innovation and entrepreneurship on top of her extensive knowledge of the global tech industry, thus able to give a more nuanced view of the emerging digital economy. She was involved in the book, The Wonder Years of NCB 1981-1999 and edited two books on Singapore's tech journey, Innovationation: 25 Years of Infocomm in Singapore and Intelligent Island: Singapore's Untold Tech Journey.
Ng Tiong Gee is the former Senior Vice President (IT, Engineering and Estate Management) at Resorts World Sentosa. He is also the Lead Independent Director of Pacific Radiance Ltd, as well as an Independent Director in Yellow Pages (Singapore) Ltd. His previous appointments include, the CIO and CHRO of UTAC as well as the Senior Vice President (HR) and CIO of Stats ChipPAC. He has also held numerous key leadership positions in local and foreign IT firms. He was also a graduate of the Advanced Management Program from the Harvard Business School.
Tenzin Dolma Norbhu
Advisor
Tenzin Dolma Norbhu is an ICT Policy Leader and Program Coordinator for Asia at The World Bank Group.
She has over 20 years of extensive experience in government, international development and private sector. Tenzin has demonstrated experience of working on development, policy reforms, strategy, public interest regulation, private sector investment and engineering in the ICT sector and has led policy dialogue, strategy development, developing programs and projects in South and East Asia Pacific regions; and managed the Asia region ICT sector unit's (Transport and ICT Global Practice) portfolio for the World Bank.
Tenzin has worked in over 25 countries and lived and worked in Washington DC, USA; New Delhi, India; Thimphu, Bhutan and Singapore. She has experience in management of international development assistance to emerging economies and leadership of complex programs and projects and large multi-cultural units.
Gerard Chai is a Senior Client Partner and the Managing Director of Korn/Ferry's Singapore office.  He is a member of the Firm's Global Technology Market.
With over three decades of experience in the technology marketplace and executive search, Mr. Chai leverages his expertise to identify top leadership talent primarily for technology companies.  He works closely with Board and C-suite executives, and has led numerous Board and senior executive search engagements at the regional and global levels.  His specialty areas include systems and devices, software, IT consulting and professional services and telecommunications.  He has also placed numerous CIOs/IT Heads for end-user organizations across industries.  Prior to joining  Korn Ferry in 1994,  Mr Chai worked for technology companies at NCR, Tandem Computers and Fiserv for over 10 years.
Mr. Chai holds a Bachelor of Science degree from McMaster University in Canada and has attended an Executive Management program at Harvard Business School.  He is Chairman of Enactus Singapore, the Singapore chapter of a global non-profit organization focused on entrepreneurial action for social good.  He is also a Fellow of the Singapore Institute of Directors.
CIO Academy Asia also works with many other CIO and Business advisors for various initiatives. We'd like to thank all who have supported us in many ways.
OUR ACADEMIC PARTNER

Essec Business School
Asia-Pacific
Established in 1907 in Paris, France, ESSEC Business School is an academic institution of excellence which has been characterized by its pioneering spirit throughout its history. A research-driven institution committed to the development of alliances with leading universities, ESSEC strives to expose its students and participants to cutting-edge knowledge. The school offers a comprehensive range of programs (Ph.D., EMBA and executive programs, MBAs, Specialized Masters, Master of Science in Management, Bachelor in Business Administration) focused on developing the creativity and multicultural mind-set of each individual.
ESSEC Business School, Asia-Pacific was established in Singapore in 2005. The campus has since welcomed over 5,500 students and managers. ESSEC's operations in the Asia-Pacific region present an ideal foothold to participate in the vibrant growth of Asia and to share expertise with the business community of the region.
ESSEC Business School, Asia-Pacific offers innovative academic and executive programs with Asian insights and Global perspectives. Backed by a multicultural faculty, ESSEC Business School, Asia-Pacific aims to achieve influential world-class research in Asia. To help students and executive participants reach and exceed their learning potential, the ESSEC Asia-Pacific campus houses its own centers of excellence and research institutes dedicated to research in various areas. These include fields of expertise in Digital Business, Entrepreneurship & Innovation, SmartLife & Economy, and Leadership.
The school also leverages on its Asian experience and regional network of premium academic and corporate partners to offer customized corporate and open-enrolment programs designed to suit the specific needs of organizations and individuals.
Professor Kevyn Yong
Academic Dean, ESSEC Asia-Pacific
Prof. Kevyn Yong is Dean of ESSEC Business School (Asia-Pacific) and Associate Professor of Management at ESSEC Business School. Kevyn received his Ph.D. in Management and Organizations from the S.C. Johnson School of Management at Cornell University. He also holds undergraduate degrees in Psychology and Philosophy from the National University of Singapore and a Masters degree in Mind, Brain, and Education from Harvard University.
Prior to joining ESSEC, he was Associate Professor of Management at HEC Paris and also taught courses at Cornell University and the National University of Singapore. He has been recognized for teaching excellence, notably being awarded the Pedagogy Innovation Prize by the HEC Foundation in 2011 and making the Dean's Honor Roll at the S.C. Johnson School of Management at Cornell University in 2005 and 2006. He has taught in the EMBA, MBA, PhD, and customized executive programs for the HEC-ATOS Gold talent development program in France, the King Faisal Specialist Hospital and Research Center in Saudi Arabia, and the RI Advice Group from Australia. In addition, he has also delivered customized leadership and innovation programs for Amazon in Paris, France; EBAY in Shanghai, China; Nike in China; Danone in Singapore; Aditya Birla Group in India; BNP Paribas in Singapore; Johnson & Johnson in Singapore; NTUC in Singapore; Essilor in Singapore; and Keio University in Tokyo, Japan.
Kevyn's research focuses on creativity, innovation, entrepreneurship, and leadership, particularly in the areas concerning cognition, collaboration, and social networks. His work has been published in the Journal of Econometrics, the Journal of Experimental Psychology: General, the Journal of Experimental Social Psychology, Small Group Research, Small Business Economics, and Entrepreneurship Theory & Practice.